How to Install Laminate Flooring
Before Installing
Cover a few prep steps before you start installing new laminate flooring:
Measure your space to determine the amount of new flooring you'll need, allow for 10-15% extra to account for waste.
Gather your tools: a measuring tape, hand & eye protection, mallet, pry bar, utility knife, flooring cutter of your choice, level, and a square corner measure. Our handy flooring installation kit includes all the necessary tools besides your saws!
Gently remove any baseboards or vent covers and thoroughly clean your floor.
Ensure the floor you'll be covering is smooth and dry. This may be wood, concrete, or other existing flooring. Level your surface with gentle sanding if necessary.
More About Laminate
Laminate is the perfect option for an easy, inexpensive upgrade that will transform your space. Laminate boards snap into place, so there's no need for nails, glue, or mortar. Improved technology gives new laminate better wood designs and texture at a fraction of the cost of hardwood. It is durable and low maintenance, but susceptible to moisture: avoid laminate in damp areas like laundry rooms, and excessive moisture from mopping. Always install your flooring following manufacturer instructions, and consult with our Project Centre for any extra help.
Installation Tips
If you're installing flooring in a new space, you'll need to lay your vapour barrier and underlay on your clean, dry subfloor. This will keep your floor dry and insulated.
Test fit your first row before locking it down.
Use your laser level to ensure the first row is straight and square against your perimeter. Use shims as needed to adjust and maintain space for baseboards.
In your first row, ensure the groove & tongue sides of your planks are facing the proper direction.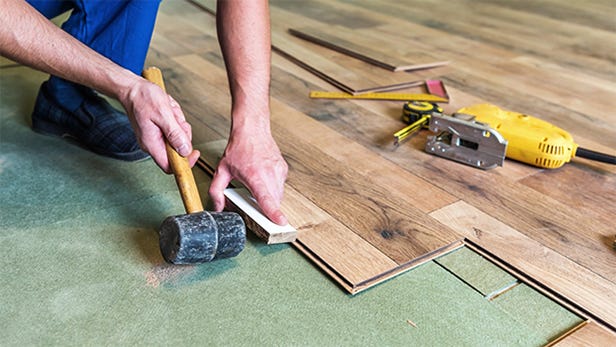 Laying Laminate
Begin laying your flooring with help from your tapping block and mallet. Continue to measure and trim sections as needed to stagger joints. Ensure there is at least 6-8" of overlap between seams
When you reach your last row, carefully measure and trim boards with a ¼" allowance for expansion.
Once all your flooring is laid, reinstall any baseboards or trim and clean any debris.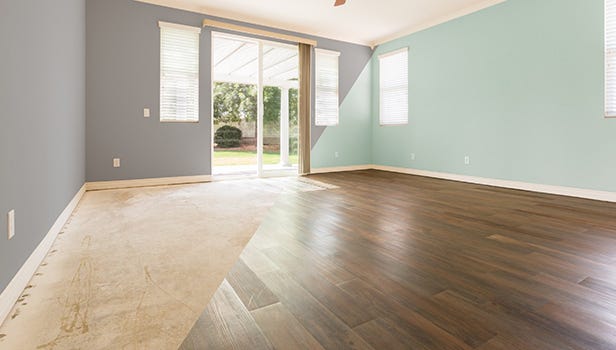 DIY your new floors for a more beautiful, functional home! Explore KENT laminate flooring here. Contact your local KENT Project Centre with any questions or inquire about our installation services!
Ready to Ship
4 Available for pick up at

Ready to Ship
2 Available for pick up at

Ready to Ship
138 Available for pick up at

Ready to Ship
3 Available for pick up at

Ready to Ship
1 Available for pick up at

Ready to Ship
2 Available for pick up at
Looking for more DIY Projects?