Planning and Prep
Before any renovating, carefully measure and order your new vanity and gear you may need. Have our Project Centre help you with 3D renderings, tools, or a full installation. Our experts can also verify that the proper plumbing is in place for your vanity. If you're DIYing your install, you'll need…
An & all vanity pieces
Jigsaw (as needed)
Measuring tape
Stud finder
Level
Drill
Caulk
Safety equipment.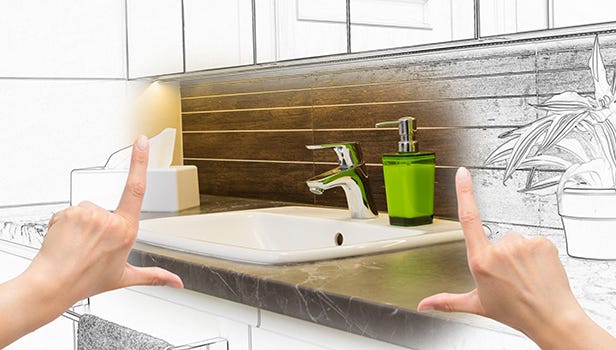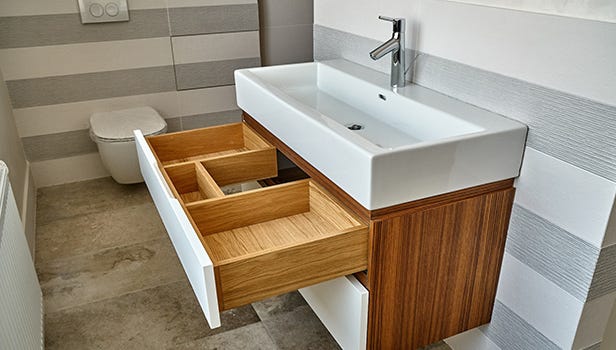 In With The New
To remove your old vanity, carefully disconnect all plumbing lines and remove any accessories like mirrors, drawers, or shelves. Score and remove any caulking, gently remove your sink and counter, then remove the cabinets. If your vanity is in good condition, local charities may accept countertops or cabinets! Be cautious not to damage walls or floors when removing an old vanity. Spot repair as needed.
Start by securing your vanity to your wall as needed. Ensure your base is square and level before any drilling. Use your stud finder along with any screws included with your vanity, drill, and secure. This step may vary depending on your vanity model; floating vanities will include hanging gear. If you're unsure how to secure your vanity, get help from your KENT expert first. Proper reinforcement is essential to prevent any jostling of your sink and plumbing.
If your sink is not included with your vanity, the next step is to place and secure your sink to your cabinets. Most modern vanities will include your sink and faucet as part of your countertop, which may be placed on top of your cabinets with a dollop of adhesive on your corners. Some counters may have screws to secure the underside to your cabinets as well.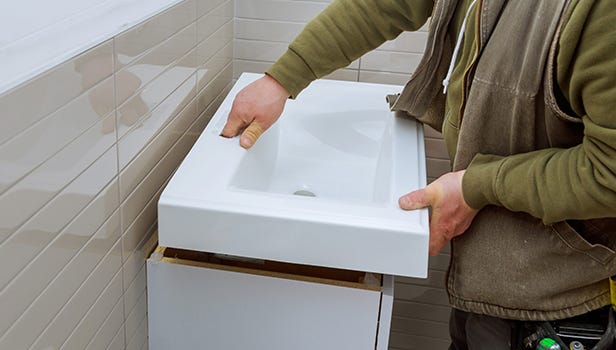 You're in the homestretch… the last steps of your install are to reconnect your plumbing and re-install any accessories. Coordinated mirrors and sconces that match your vanity are perfect for giving your bathroom a cohesive design. Polish off your DIY with hardware and finish any joints with caulk.
Having a vanity that is the proper height with functional faucets and storage is essential in any bathroom. Shop vanities of all shapes and sizes on our site and get your vanity installation started this weekend.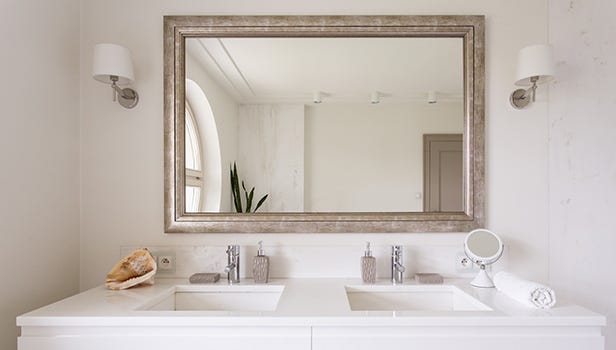 When upgrading your bathroom, make your decisions as easy as possible with complete vanity packages! Take your bathroom from blah to beautiful and start your bathroom refresh at your local KENT Project Centre.
Images are for illustration only.
Ready to Ship
1 Available for pick up at

Ready to Ship
1 Available for pick up at

Ready to Ship
5 Available for pick up at

Ready to Ship
1 Available for pick up at

Regular Price

$249.99

Special Price

$149.00

Ready to Ship
2 Available for pick up at

Ready to Ship
34 Available for pick up at