Online orders through KENT.ca can be delivered to our customers in a variety of ways. These options will be made available during the checkout process.

We encourage those that are feeling sick to respectfully stay home in order to help prevent the spread of the virus. While deciding how to approach shopping, according to your own personal needs, we would like to remind you that there are four ways to shop with KENT: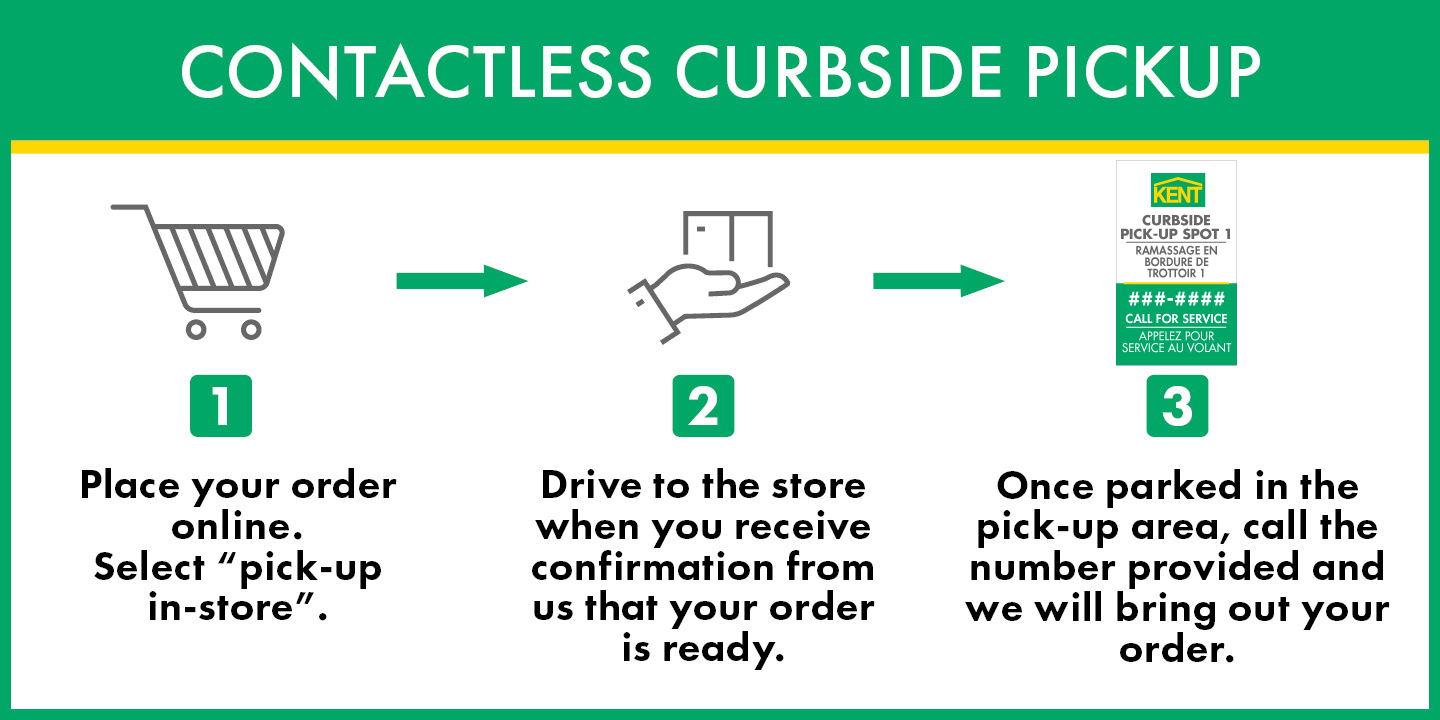 1. Contactless Curbside Pick Up
Place your order online to buy online, pick-up in-store*
Wait for an email confirmation that your order is ready for curbside pick-up
Upon arrival, call the number on the sign in the designated curbside pick-up spot, provide the spot number you are parked in and an associate will bring your order to you. Please ensure that you have your ID and order confirmation number.
2. Pick Up In-Store
If Pick Up In-Store is desired, the store selected in the "My Store" above the menu will be used as the location for this shipping option and it will have a delivery fee of $0.00.
Customers are asked to wait for their confirmation email before coming to pickup their order.
When you arrive at the store please go to the customer service desk to pick up your order.
3. Ship to Home
Parcel deliveries will be shipped from Moncton, NB via BNI, Midland, Canada Post Expedited Parcel, Canada Post Xpresspost, and Fedex Ground. Prices will be shown after an address is entered during the checkout process.
Delivery times are estimates only. Actual delivery times may vary. Shipping will not occur on holidays.
Shipping costs are based on the size and weight of your order within Canada and USA. Rates will be adjusted accordingly depending on product weight and dimensions, and shipping location. Depending on the product and the shipping location, some shipping options may not be available.
4. Kent Delivery
Kent Delivery operates 8:00AM to 5:00PM, Monday to Friday, and any orders placed outside these hours will be actioned at the beginning of the next operational day.
Kent Delivery Orders will be delivered on a Kent delivery vehicle from the store or a nearby store selected as "My Store". We will contact you by phone within 24 hours to schedule the delivery, pending any unforeseen circumstances. Kent Delivery is available for most items, some exclusions apply (Ex: baby barns, hot tubs, etc.). A flat rate fee of $50 will be applied during the checkout process. This fee covers delivery of most items up to 50km from the selected store. Additional fees may apply if special equipment, road tolls, ferry tolls, or other fees are incurred.
Kent reserves the right to cancel shipping orders based on costs, logistics and fragility of items. If Kent exercises the right to cancel, the customer will be contacted and every reasonable effort to satisfy the customer will be made.
---
Free Parcel Delivery
Only available for qualifying purchases on kent.ca only.
Free parcel shipping is available on orders of qualifying products which total over $49 (excluding taxes).
Qualifying orders must be 150 lbs (68kg) or less and max 4 cu ft.
Excluding oversized items and/or non-Atlantic shipments.
Offer does not apply to previous orders, in-store purchases, items with flat-rate shipping or certain items containing weight and/or size shipping restrictions.
All qualifying purchases will be delivered by standard shipping and are subject to Kent.ca's standard shipping restrictions.
This offer is available within Atlantic provinces only.
Offer may be modified or cancelled at any time without notice.
Free Fleet Delivery - (March 17th – 31st)
We are happy to offer free fleet delivery for a limited period.In order to qualify:
Purchased from Kent.ca only
$100 minimum order
Delivery date will be confirmed
Excludes Drywall
Within 50 kms of your store
Same Day Delivery (DoorDash)
We are happy to offer same day delivery through DoorDash. In order to qualify, eligible orders must:
Be within a 15km radius of the following stores:

Saint John Kent store
Dartmouth Crossing Kent store

Have a total weight under 50lbs and under 5 feet.
Same Day Delivery will not occur on holidays
Orders must be placed before 4pm to receive your order the same day.
In order to qualify for same day delivery, eligible orders must:
---
Delivery Process
Kent Delivery is pleased to use our fleet of trucks and delivery vehicles to bring our products right to your home. Our drivers will do their best to deliver your material where it is most convenient. However, at all times our drivers are conscious of their safety and it's up to them to determine what is safe and what is not. This typically prohibits heavy deliveries from being delivered up and down stairs. We appreciate your consideration of our driver's safety.
Where stock is available, orders will be shipped within 3 business days. When stock is not immediately available, attempts will be made to acquire the stock from other nearby stores. This may take up to 3 weeks, depending on the type of transfer. If a courier is selected, products that are fragile, too large, too heavy, or contain hazardous materials may be unshippable, and the order may need to be cancelled.
The carriers we use are BNI, Midland, Canada Post Expedited Parcel, Canada Post Xpresspost, and Fedex Ground. Once your order has been shipped, we will send you an email with a tracking number. You will be able to use this number to check the progress of your order at canadapost.ca, fedex.ca, midlandcourier.com, or bnitracking.com.
CONTACT US
If your order arrives damaged, incomplete, or incorrectly, please contact us within 2 business days at:
Phone: 1-877-445-3527
Mail: orders@kent.ca
Hours: Monday-Saturday: 8AM - 9PM AST Sunday: 8AM - 5PM AST
*Closed on Holidays*