1 Value Pick Refresh for Under $60
Make your bathroom better in one weekend with a quick paint update or fun wallpaper! Bathrooms are the perfect space to play with colour and funky patterns on a small scale. White paint is a foolproof choice to brighten your space up and accessorize with colourful plants and towels. Try a peel and stick wallpaper like Nuwallpaper, or a fresh coat of moisture resistant SICO bathroom paint.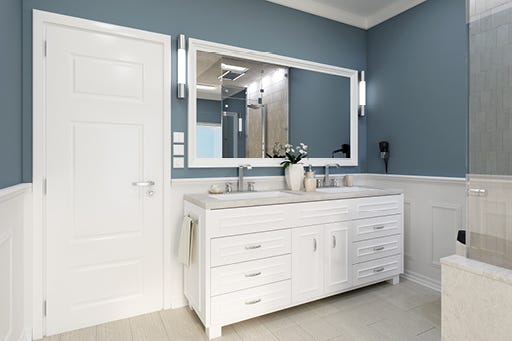 2 Update Hardware for Under $300
If you're ready to keep DIYing, ask our Project Centre for instructions on replacing your faucet! Our Moen Arlys single handle black faucet will compliment a modern update and add depth to a bright design. Always follow manufacturer instructions for installing, and ensure the final product is watertight. Tie in the matte black trend with a round vanity mirror, like the 31" Columbia Frame black Bentwood Lush mirror!
3 Replace Your Vanity for Under $1200
If your space needs a little more TLC than paint and hardware can provide, replacing your vanity and lighting can majorly improve daily utility and of course, appearance. Vanities can offer tons of storage, an easy to clean countertop, and oh so functional double sinks! When DIYing your install, have our Project Centre experts guide you through plumbing details. You'll need to:
Shut off water supply
Remove your old vanity (check if a local charity accepts furniture!)
Secure your new vanity and counter with screws and caulking
Reconnect new plumbing
Caulk the edges
Polish off your design with a modern light fixture to brighten up any space! Vanity Lighting from Canarm is perfect for any experience level DIYing with Canarm's Easy Connect push in connection system, 4 lighting options, and versatile up or down mounting orientation. Easily upgrade lighting in less than an hour and finally have the bathroom you've dreamed of!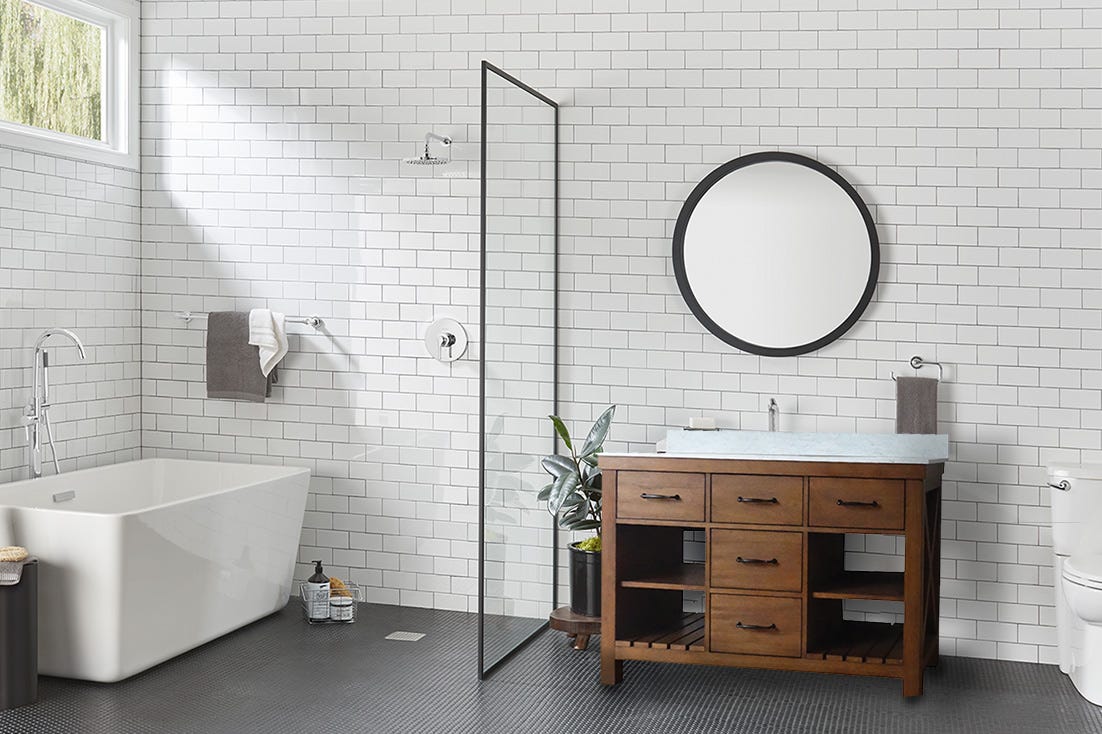 No matter what condition your bathroom is in, you can find a DIY at KENT for your skill level and budget! Love your home this fall with help from our Project Centre.
---
Shop Bathroom!
Starting at

$55.99

Regular Price

$69.99

Starting at

$135.20

Regular Price

$169.00

Ready to Ship
1 Available for pick up at

Ready to Ship
3 Available for pick up at

Ready to Ship
4 Available for pick up at