---
Removing as much dirt and debris from the surface as possible is critical before painting. This surface preparation will aid in the adhesion of the paint and result in a clean finish. So, the day before you start painting, thoroughly clean the area with a small amount of original dove dish soap, water, and a damp rag. Once the bricks are clean, we need to ensure that the soap residue has been removed by going over the entire surface with a clean rag with warm water. Then leave the brick to dry overnight before applying any paint.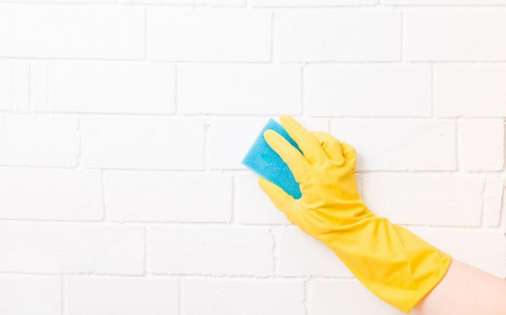 Tape
To begin, use painter's tape to tape off the surrounding area. This will assist you in avoiding painting errors and increasing the productivity of your project.
The tape will provide a precise straight line and a protective border if spillover occurs, resulting in a more professional-looking DIY.
Prime
It is critical to use a primer whether the brick you paint is old or new. The Sico Duo primer-sealer is recommended. First, apply a light coat to all crevasses and edges a roller cannot reach. Then, prime the rest of your surface using a roller, and allow four hours for it to dry. Because brick and tile are porous, a second coat of primer will be required, along with another four hours of drying.
Paint
When your primer has completely dried, it's time to paint! Three coats of paint are likely to be required for the best results. Make sure to wait at least 6 hours between coats. After all your paint has dried, it's time to remove the painter's tape. To do this, score the seams with a razor blade to ensure smooth removal.