---
Plastic Pumpkin: This is the ideal time to repurpose an old Halloween pumpkin that has seen better days. Or, if you need to purchase some to finish the project, why not go to your local thrift store?

Paint: We used Sico Paint in the shade Georgian Leather with an eggshell finish for our pumpkins. For the second part of the DIY, we'll need clear matt spray paint.

Additional supplies: Things may get a little messy, so we recommend picking up a dropcloth of some kind to make cleanup easier. Basic paintbrushes, a medium fluffy brush, baking flour, and a baking sifter are also required.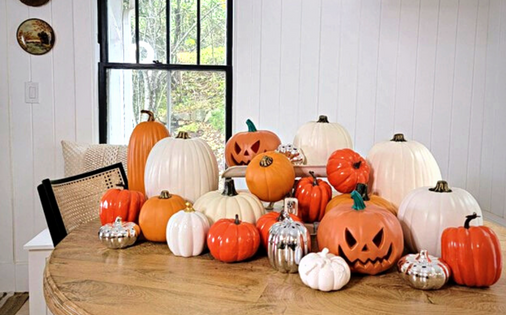 First, were going to paint all of your pumpkins with Sico Georgian Leather paint in an eggshell finish (2 coats leaving 6 hours between each coat).

Please keep in mind that the following steps should be carried out outside in a well-ventilated area.

Once the paint is dry, use the clear matt spray paint and work in sections: apply a good even coat of spray paint to a section of the pumpkin and then dust with baking flour using the sifter.


To remove excess flour, firmly tap your pumpkin on your work surface.

Dust off any remaining flour with a medium-sized fluffy brush (similar in size and density to a makeup powder brush).

Continue to repeat the previous step until the pumpkin is completely covered, making sure to finish the top of your pumpkin last.
Your terracotta pumpkin is now ready to be displayed alongside the rest of your Halloween and Fall decorations! We adore the look of these terracotta pumpkins. We are confident that they will be used again and again when we decorate for future Halloweens.