Prep is Key!
If you are painting existing doors, prep is key! The first step is making sure your door is clean by wiping it down a few times before painting. If there is any dust in the grooves of the door, your paint will collect it and it will cause clumps in the paint, which will not result in a smooth finish.
The door we are using was hung during a recent renovation, so it's already primed and ready to go! If you are working with a new door, be sure to check if it has already been primed before you paint it!
Make sure you prep your painting space with a drop cloth or plastic sheet to protect the floors. This will ensure that your floors stay clean and free of any paint.
To start getting your door ready to paint, be sure to tape off or remove any doorknobs or hardware. This will ensure that you do not get paint on any unwanted surfaces.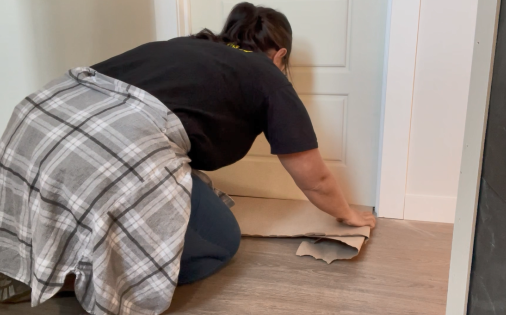 If you aren't taping off your doorknob or other hardware, keep a damp rag near you. This way, you can paint all the way up to the door hardware. You can use your rag to wipe the paint off the door hardware to get a tight painted seam.
Painting Your Door
Start off by painting in the corners of the grooves in the door (mitres) using an interior latex paint. It is important that your brush strokes go outwards from the corner, so that excess paint that gets collected in the corners doesn't drip down. If any excess paint drips down and dries, it will create a blemish in the door, resulting in an uneven finish.
To avoid this, be sure to feather it out with your paint brush before it dries. This ensures that there is not as much build up when you paint over the door with a paint roller later on.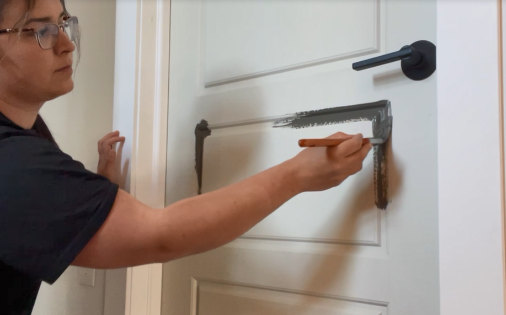 Brush size is key when painting a door. The bigger the brush, the sloppier it can get – using a smaller brush no bigger than 2 inches will help you paint inside the grooves of the door without making a mess.
Paint the bottom of your door first, this way you do not get any paint on your floor when you apply the rest of the paint with the paint roller.
If you are only painting one side of the door, make sure that the side of the door you see when you swing open the door is the same colour as the door panel.
Once you have all the corners and edges painted, now you can start painting the rest of your door! Easy right? Using a paint roller, start by doing horizontal lines first, and then finish with the longest vertical lines for the cleanest finish.
Once you have one coat of paint done, be sure to repeat this process and do a second coat. This will ensure a smooth and blemish-free finish.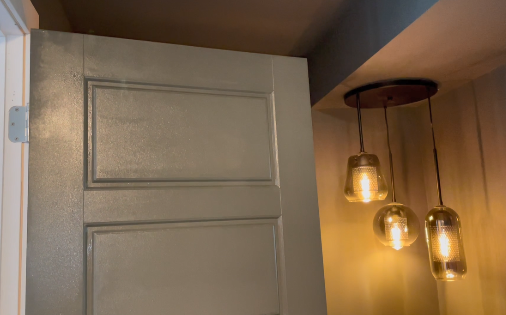 Now your door is done! How easy was that? Be sure to tag @kentbuildingsupplies on social media if you complete this project.
Ready to Ship
15 Available for pick up at

Ready to Ship
11 Available for pick up at

Starting at

$43.39

Regular Price

$71.99

Ready to Ship
103 Available for pick up at

Ready to Ship
11 Available for pick up at

Ready to Ship
47 Available for pick up at