Vinyl
Vinyl siding is one of the most popular siding options because of its affordability, range of styles and colours, and is a long lasting low maintenance choice. Vinyl may come in horizontal boards, vertical board & batten panels, shake shingles, or dutchlap that gives the appearance of wood siding as well as multiple finishes and board widths. Vinyl siding will require minimal maintenance over its lifetime and often comes with long warranty periods.
Stone
Stone siding is often available as faux-stone or genuine stone depending on your desired style, can be installed over any flat surface, and can be cut and adjusted similarly to other siding materials. It may be available in prefabricated sections or require mortar to install. Stone is incredibly durable and resistant to moisture making it an excellent option for any portion of siding that has ground contact. Stone siding choices of course include classic brick that makes a perfect low maintenance feature or full home siding. Stone options will come in dozens of natural colours and textures, and many options could also be painted.
Wood
When shopping wood siding, you may opt for fully treated and topcoated choices or untreated options to later seal or refinish on your own. When custom ordered, it can be pre-cut in your desired board or shaker style and include all necessary end/edge pieces to reduce waste when installing. Wood is often a more expensive siding option, and a popular choice for its classic, natural style. However; it may fade or need refinishing over time and proper maintenance to avoid any decay.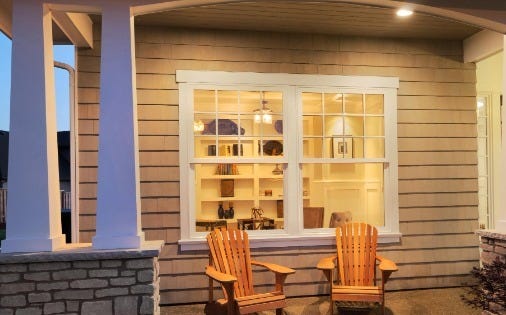 Engineered Wood
An engineered wood option provides the style of natural wood with added durability. The combination of woods strands and resin binders makes this siding more impact resistant, lighter, easier to install, and has a longer warranty. Some Mitten SmartSide options are even reversible, making your ordering process even easier and more cost effective!
Fiber Cement
A combination of wood pulp and portland cement, this siding provides superior fire and weather resistance. Cement boards are available in a wide range of colours and styles from wide panels to shake shingles, and are low maintenance and affordable. Fiber cement siding features realistic wood grain and textures and are paintable for even more customization possibilities!