If you don't already have a treehouse or playset, start by downloading this plan and bringing it down to our Project Centre. We also recommend this drill set for a seamless project experience.
Stain and Paint:
Wear and tear can make your treehouse or playset look old and worn. Add stain to refresh your playset or treehouse. Use these tips and tricks to make the most of your project. Start at the top and work your way down. Ensure your stain is waterproof to make the most of it. Add some variety by using two different colored stains, alternating between wooden boards.
Who doesn't love a fresh coat of paint? Add some personality to your yard by following @aniserichard 's step-by-step. Assign roles to your little ones for a fun-filled afternoon. Just remember to lay down some garbage bags and wear your least-favorite clothes (these things can get messy!)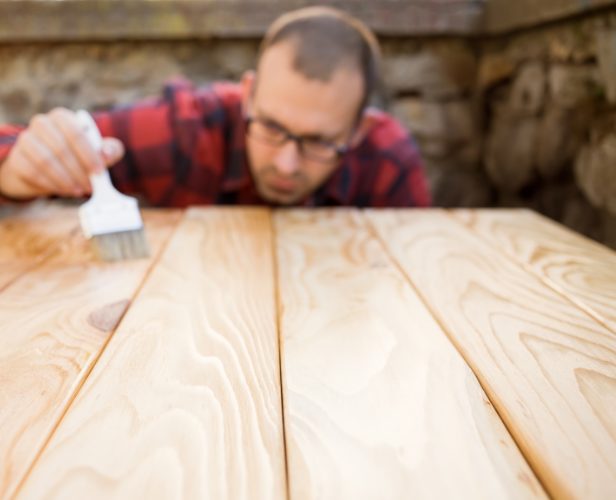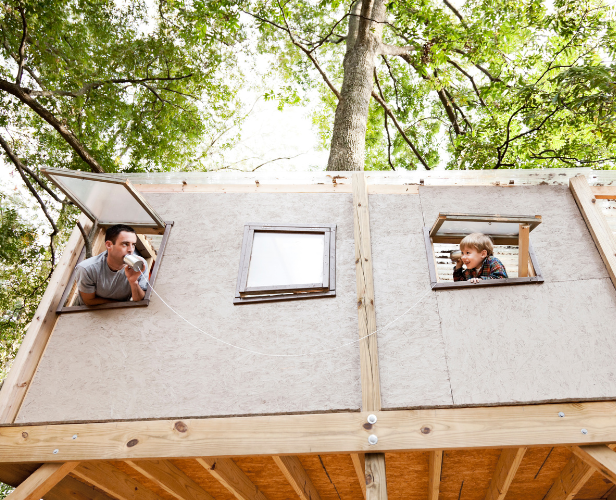 Add Accessories:
An easy and fun way to level up any treehouse is to add a feature. Whether it's rock-climbing steps/wall, attaching a slide, or adding a swing, this may just be the touch you need to be the envy of the neighborhood.
Experiment with different KENT supplies! Try making a homemade hammock with heavy duty rope or build a swing by adding wood as a base instead and securing it to the tree with coated cables.
Take it one step further by adding a window to your treehouse. This will ensure you keep an eye on them while they're at play and allow them to enjoy the outdoors to the fullest. Add some finishes touches by hanging some drawings or paintings on the wall to make things feel like home
Make it An Experience:
Family movie night? Spa day? Make your treehouse or playset an experience!
Adding an experience to your treehouse or playset gives your children the opportunity to experience your work to the fullest. Here are few ideas to get you started:
1. Lay some pillows down, bring your favorite blankets, pop some popcorn, grab the sweets and get ready for a movie night like no other. Hang a sheet or a blank tarp and bring in a projector for an elevated cinematic experience (don't forget to get comfy in your PJs!).
2. Get your favorite sheet masks, cut a few cucumber slices, roll up some hot towels, and get the essential oil diffuser going. It's time to relax, kick back, and take a long-awaited staycation. We recommended hanging some black out curtains or carboard and setting down a few fake candles for a serene experience.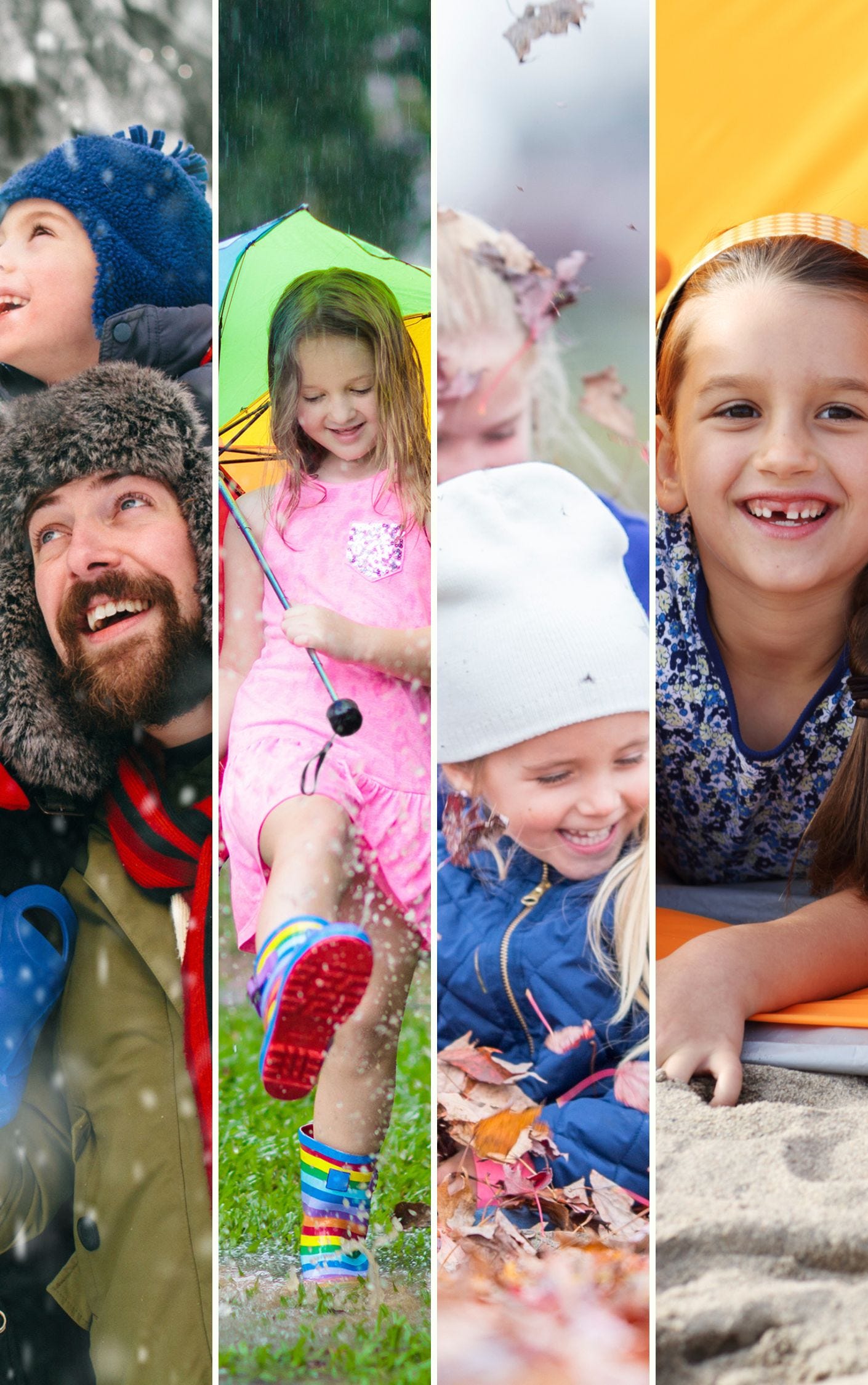 Add Seasonal Themes:
A playset or treehouse doesn't have to be limited to just the summer season. Make your treehouse a year-round treat with these 4 themes.
Winter wonderland: Grab your favorite mittens and start packing some snow – Frosty's coming to town and your playset is his home. Hang a movable clothesline inside and pick your favorite winter apparel, it's time to give your snowman a makeover. Let your little ones pick from an assortment of winter clothing to make their snowmen the best in town. Don't forget to shovel the steps for quick access to hot cocoa drop-ins to keep them warm while they build their wonderland.
Spring Fever: What's a better way to ring in spring then with some good old-fashioned gardening? Use our spring gardening guide to get started! Build a tool scavenger hunt (use blunt tools only) in your treehouse/playset's surrounding areas to add a challenge. Pick from a variety of fertilizers and lay out some adorable pots on your treehouse ledge for the perfect spring season.
Forever Summer: Missing the beach? Skip the FOMO and build your very own backyard sand box. Start by laying some sand in or around the playset/treehouse. Hang a seaglass windchime for added effect. Grab the lemonade, grab some hats, and relax on these versatile lounge chairs. Anchor everything together with a treasure hunt. Burry some packaged snacks or their favorite toys and build out a treasure map for fun that never stops!
Fall Fest: Cool breeze, crisp leaves, pumpkin spiced treehouse/playset. Fall is here! Have a pumpkin carving contest or see who can rake the tallest pile of leaves at each corner (winner gets the first slice of pie!) or make a leaf maze with a sweet candy-coated treat at the end for all to enjoy. If you have a slide attached to your treehouse, rake a giant pile of leaves at the bottom, sit back, and watch them slide over and over again (touch up the pile every once in a while, for maximum joy!).
Make it Eco-Friendly:
There are a million and one ways to build a treehouse that aligns with its outdoor environment. Hang some birdfeeders, get some plants, build a moss patch on your roof, and let nature do the rest. Build a mini pollinator garden by getting plants like Milkweed or build a sanctuary for our friendly crawlers. Be sure to face all your work to the south, so their little friends can get the morning sun. Ditch the corrosive insecticide and opt for a natural solution.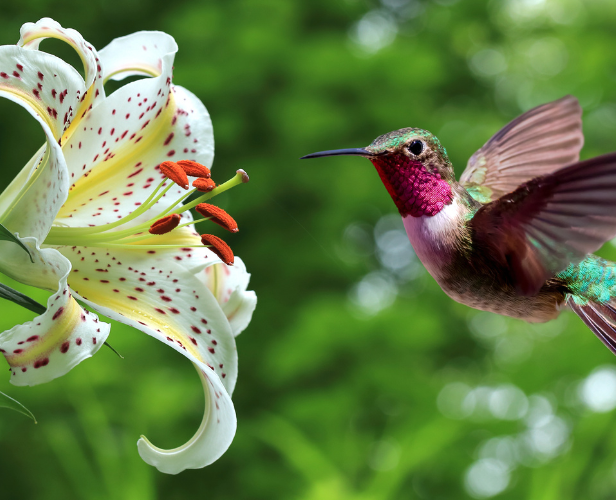 ---
At the KENT Project Center, we're here to help. Let us make your wildest building dreams come true. Got an idea that wasn't on the list? Bring it to your local KENT store and let our experts direct you, offer advanced solutions, and help you streamline your blueprint for a seamless building experience.
We look forward to seeing you soon!