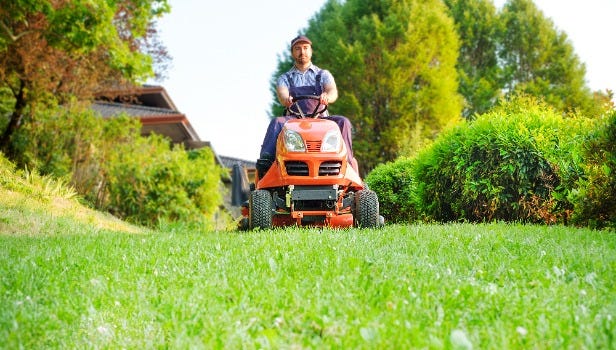 Things to consider before buying a lawn tractor
Because there are so many different types of lawn tractors available, you want to make sure you choose one that will best suit your specific yard and situation. But how do you know what's right? Our guide breaks down three things to consider before making a purchase.
1. What is the size of my lawn?
2. What features am I looking for in my mower?
3. What type of terrain does my lawn consist of—is it more flat or hilly?
1. What is the size of my lawn?
Whether you have a small or large lawn, you need a tractor that's right for your situation. A smaller yard will require less powerful machinery, while someone with a massive expanse of grass might want something more heavy-duty. Decide how big your yard is and what type of mowing you do, and then figure out what kind of tractor makes sense.
1/2 - 1 acre - For a lawn this size, you'll want a riding lawn mower with a cutting width of up to 42" and at least a 14 HP engine.
1 - 2 acres - For yards in this size range, a riding lawn mower with a 42" or 46" deck and an engine in the 14 - 16 HP is necessary.
3 Acres or more — If your estate is in this extra-large lawn grouping, you are indeed fortunate. For this size lawn, you'll want a garden tractor with a 46" - 54" deck and an engine of 18 - 24 HP.
2. What features/options am I looking for in my lawn tractor?
With many different options available, it can be hard to determine which ones are right for you. If you list all of your requirements in advance, you'll know what you're looking for. Navigating product listings is easier this way, so when you purchase your lawn tractor, it'll be exactly what you were looking for.
Gear Driven or Automatic
A gear-driven tractor is an excellent choice for those with small obstacles to mow around because it provides a constant and steady pace for the blade to cut the grass. An automatic transmission tractor will allow you to switch gears at will, whereas with a pedal-driven tractor, you're stuck with just three speeds.
Bagging or Mulching
Many riders do a great job of bagging and mulching, but some larger decks are not designed to do either.
Single Cylinder or Twin Cylinder?
Two engine types are available: the twin-cylinder engine (usually with a power of 16 horsepower or more). This engine type has better balance, more power, cooler running, and longer engine life. Single-cylinder engines offer more than enough power for maintaining smaller lawns.
3. What type of terrain does my lawn consist of—is it more flat or hilly?
If you're in an area with hilly terrain, you'll want a tractor that can handle those slopes. If you're dealing with more flat, smooth ground, consider purchasing a lawn tractor that will easily move over them. If your yard is somewhere in between, then you should look for a lawn tractor that is both nimble and powerful.
Although zero-turn mowers might not be the best option for areas with a lot of hills, it's tough to deny the importance of their capacity for traversing all types of terrain. That is why it's only recommended to use zero-turn mowers if your lawn isn't very steep. On the other hand, if your yard is a lot of a climb, use a tractor or a rear-engine mower.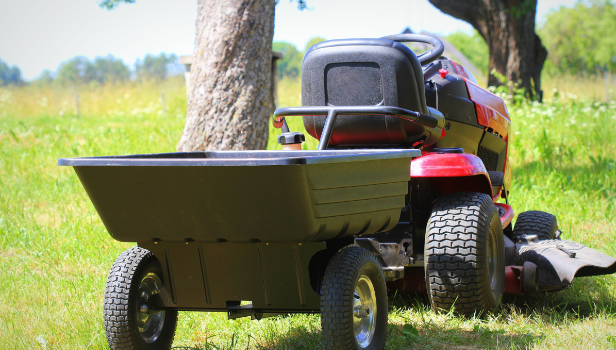 Is There Anything Else I Should Know Before Buying?
One last thing to consider before purchasing a lawn tractor is whether or not any additional accessories would make your life easier. I'm always in favour of researching your options because they can save you time and money (as well as back pain) in the long run.
Regular Price

$2,749.00

Special Price

$2,549.00

Ready to Ship
6 Available for pick up at

Regular Price

$3,999.00

Special Price

$3,899.00

Regular Price

$3,399.00

Special Price

$3,349.00

Ready to Ship
1 Available for pick up at

Regular Price

$2,649.00

Special Price

$2,399.00

Ready to Ship
9 Available for pick up at

Regular Price

$379.99

Special Price

$349.99

Ready to Ship
15 Available for pick up at

Regular Price

$2,849.00

Special Price

$2,649.00

Regular Price

$2,599.00

Special Price

$2,399.00

Ready to Ship
10 Available for pick up at