Project Overview: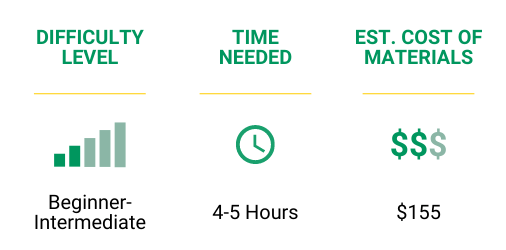 Note: The time-commitment, cost, and materials represents creating a 10' x 8' accent wall. This tutorial is only meant to act as a guide and may vary based on individual skill level.
Ready to Ship
616 Available for pick up at

Ready to Ship
316 Available for pick up at

Ready to Ship
19 Available for pick up at

Ready to Ship
4 Available for pick up at

Ready to Ship
11 Available for pick up at
How to Make an Accent Wall With Trim:
Measure Your Wall
The first step is measuring the height and width of the wall you are going to use. Once you have the height, divide that into equal sections so your trim is spaced evenly on the wall. Since we used 4-inch trim and our walls measured 8 feet high, we left 8 inches of space in between each piece of trim.
Use a level to mark lines across the wall at each section so you know where to attach your trim.
Attach Your Trim
Use construction grade adhesive on the back of your trim pieces, then attach them to your wall on the lines that you marked earlier. Be sure to use your level during this process to make sure all your pieces are straight. Then you will want to secure it to the wall using pin nails.
Our wall measured 10 feet wide and our trim was only 8 feet long, so we left spaces at the end and cut more trim pieces to fit.
Measure the spaces at the end of EACH piece of trim. If you measure one space at 21 inches, the one above it may be different by a ¼- or ½-inch.
Prep Your Wall For Paint
Use wood filler to fill in the seams between two pieces of trim, as well as any holes from the pin nails. You'll also want to use some caulking behind each piece of trim.
Once you have the holes filled, go over everything with a sander to get a smooth and seamless finish.
Paint Your Accent Wall
You might think your wall isn't looking like much of anything yet, but a coat of paint will bring it to life! Use a paint brush to paint all the grooves and corners, then finish off the larger sections with a roller.
We used Black Magic by PPG, but you can use any colour you want. White would give the room a rustic farmhouse vibe, or you could use a bright colour to add some serious style to your room!
Take a look at the finished product!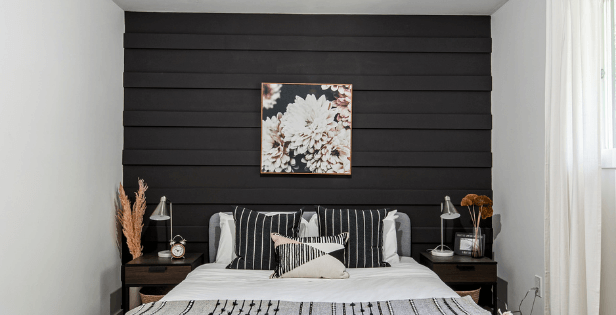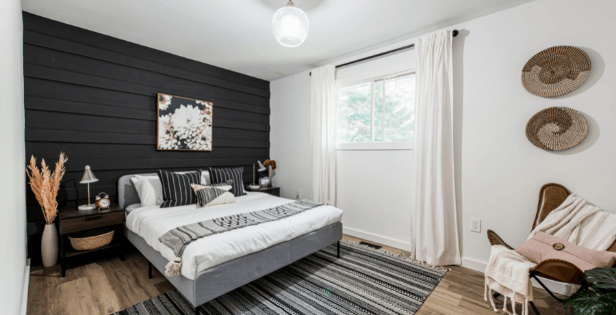 Looking for more DIY projects?