Wood Stoves
Wood stoves are one of the most reliable heat options! As long as you have access to firewood, you can enjoy a toasty home with none of the power bill increases. Wood stoves need to be connected to a ductwork system to spread heat throughout your home and should always be installed by professionals.

The best location for wood stoves is the bottom floor of your home to allow heat to rise and spread. It must be installed well away from any obstacles, take into account your room layout and furniture placement before installation. They will need a proper base and wall protection made of stone or tile to increase heat & flame resistance. Account for some indoor wood storage to avoid multiple trips outdoors to restock.

New wood stoves are incredibly powerful heaters and can easily heat your whole home as long as you have a reliable source of firewood. The ambiance of a wood stove is hard to beat, but may not be suitable for homes with small children or pets. They can safely heat your home for hours at a time, but should have regular monitoring and maintenance to ensure top fire safety at all times.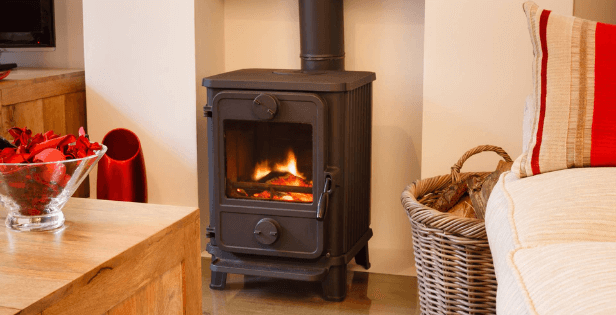 Mini-Split Heat Pumps
Mini-split pumps consist of an indoor evaporator, an outdoor condenser, a refrigerant line, and most systems include wireless control. The heat pump works by extracting heat from the outside and bringing it inside. The refrigerant gas absorbs heat from the outside air and this heated gas gets passed to the indoor unit. When cooling, heat from the inside gets passed outside to be cooled by the outside unit.

A mini-split will deliver continuous heating or cooling that eliminates temperature variation and reduces your energy bill! These are perfect for zone heating the most used areas of your home or smaller structures like garages. These types of units tend to be quiet, less prone to breakdowns, and easy to install in existing structures.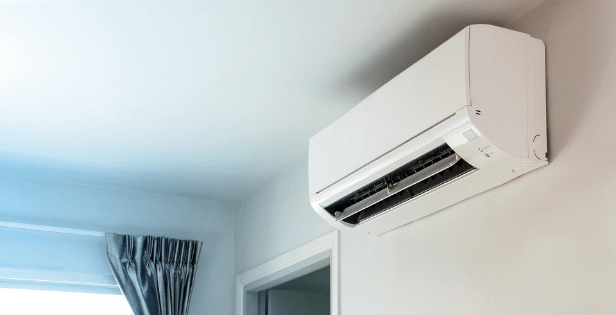 Electric Heat
Electric heat options include baseboard heaters, radiant floor heaters, space heaters, or wall heaters. Most of these options can be directly connected to your home's electrical system with the help of an electrician. Electric heaters can be easily added to any rooms as backup for old gas heaters, and reliably heat most space through convection or hydronic heat.

Space heaters are perfect for supplementing a drafty space, but typically aren't suitable to use for very long time periods. Plug one in while you use your basement, or take it out to your shed for a little extra comfort.

Radiant floor heating ensures you'll never have cold toes! The electric cables or mats must be installed on your subfloor; this is typically easier during new construction as opposed to renovating. Ask your KENT expert which flooring materials work best with in-floor heating: concrete can actually emit stored heat long after you've shut it off, but hardwood may warp or expand with temperature variation.

These heaters require minimal maintenance, just some light cleaning. Curtains and furniture should be at least 12" away from any heater. Avoid using extension cords, blocking your heater with doors, and always verify auto-shut off functions to get the most (safe!) heat from your model.
Pellet Stoves
Similar to wood stoves, pellet stoves can be slightly more efficient in comparison because of a more automated heating process: air vents and pellet amounts are automatically adjusted to meet & maintain your desired room temperature. Pellet stoves can heat main areas of your home through air convection and built in fans. It may not be quite as beautiful as a wood stove, but pellet stoves burn very efficiently and have easy-to-use push button functions. Pellet stoves have very little energy waste and have higher combustion efficiency than wood stoves.

Pellet stoves will need professional installation including a chimney flue for fume extraction. They will also need a power source for its automated functions. A tile floor & wall base is not needed for pellet stoves, but a small hearth pad is needed to protect flooring. These stoves have less strict installation requirements compared to wood stoves because of automatic safety functions, limited fuel hoppers, and digital control.
No matter which system you choose to heat your home, you can have the warmth, ambiance, and efficiency you need! Explore dozens of style choices at KENT and get the best advice on installation.
Ready to Ship
79 Available for pick up at

Regular Price

$2,799.00

Special Price

$2,499.00

Regular Price

$1,999.00

Special Price

$1,399.00

Ready to Ship
1 Available for pick up at

Regular Price

$1,949.00

Special Price

$1,699.00

Ready to Ship
2 Available for pick up at

Ready to Ship
1 Available for pick up at

Ready to Ship
1 Available for pick up at

Ready to Ship
24 Available for pick up at

Ready to Ship
2 Available for pick up at

Regular Price

$179.99

Special Price

$149.99