For This Project You Will Need: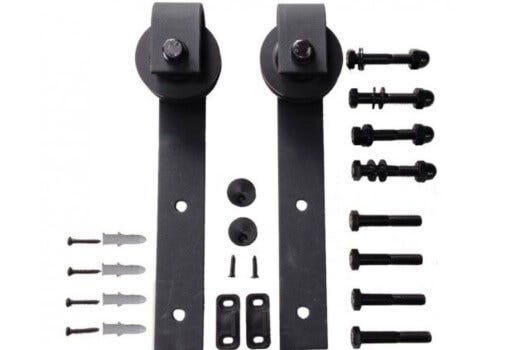 Measure First
The first step to any installation is measuring your space properly, including your door frame and your desired barn door. Check your door model's manufacturer instructions to verify exactly how much space is needed above your door frame to accommodate the top rail and total length of your door, typically 6-8". Measure the total width of your top rail to guarantee there is extra space to open and close your door, usually double the width of your door.
Most doors will come with bumpers you can adjust to determine how far your door will roll. This is important to avoid covering any light switches or power outlets. Always follow the manufacturer instructions for measurement requirements, especially the gaps between your door & walls to avoid any scraping.
Installing the Top Rail
Follow your model's requirements for installing your top rail above your door frame, and use a stud finder to make sure your bolts will line up with your studs. Opt for heavy dry drywall anchors or an additional header board if your studs aren't in the right spots. Heavier doors will typically require a header board for additional security; check with your local KENT Project Centre to ensure you reinforce your walls properly for a safe install.
Attach & Secure
Mark your holes for your top rail and have a partner help hold the rail while you gently secure your first bolt (avoid tightening in case you need to adjust). Triple check your rail is level before any drilling, and always follow the manufacturer instructions for securing hardware. Follow install instructions to secure all your bolts and attach your rollers.
Lastly, you will need to install the floor guide that keeps your door from swinging. This may or may not be included with your kit's hardware, so ask a Project Centre pro which one is needed for your door! Have a partner help hang your door onto your rollers, align with your floor guide, and attach the door's bump stops at your preferred fully shut and fully open positions.
Get Rollin'
Finish attaching any additional handles or accessories, and enjoy the functionality and design of your barn doors! Perfect for narrow spaces and blank walls, barn doors add dimension and convenience to blank doorways. An unconventional door is a subtle way to boost your decor while keeping all the utility and privacy your space needs.
Find your easy to install barn door at KENT! Visit your local KENT Project Centre for all the advice and supplies you need to get your DIY rolling!