Measure
Before any demolition, have our Project Centre advise you on exactly which measurements you'll need for your new sink. Different sets of measurements will affect a drop in vs. undermount sink, any plumbing variations, and designs for single or double sinks. Once you have all the appropriate measurements for your counter, you can find the perfect kitchen sink at KENT.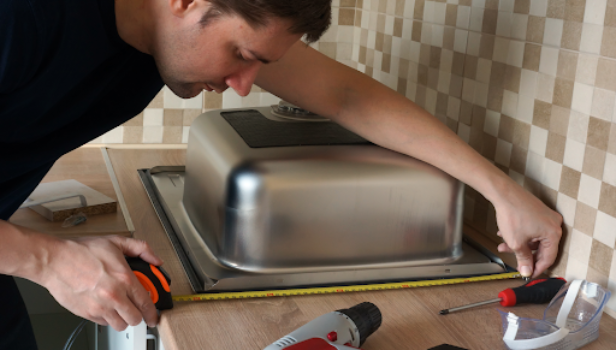 Getting Started
Before any demolition, shut off the water supply. Disconnect supply lines (be prepared to catch extra water in a bowl or bucket).
Use a wrench to gently loosen any attached nuts.
If you're also replacing your faucet, now would be the time to score & remove any old caulking and remove any attachments under your countertop.
Gently pry up edges being cautious to avoid damaging countertops and remove. Consider donating your old sink to a local charity if it's in usable condition!
Have our Project Centre talk you through each of these steps, and always follow manufacturer instructions for any installation. The details of your installation will vary depending on the shape and size of your sink as well as your countertops.
Installing Your Sink
Measure and adjust as needed for your new sink.
Place your new sink and reconnect your plumbing.
Follow installation instructions to attach any additional hardware or faucets.
Waterproof any edges with a bead of caulk.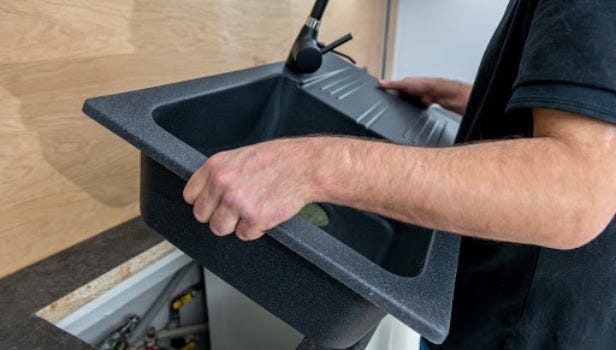 Enjoy!
Your DIY kitchen sink install will be a breeze with a little help from our KENT experts! Make your everyday more beautiful and functional, and find all the assistance you need at KENT.
Ready to Ship
3 Available for pick up at

Ready to Ship
3 Available for pick up at

Ready to Ship
317 Available for pick up at

Ready to Ship
141 Available for pick up at