Compatibility
Any new faucet must be compatible with your existing structure and plumbing unless you are building new or reconstructing your sink. Have our KENT pros help you find the best model for your home before beginning any removal of your old faucet. Your installation will vary slightly between faucet styles, so always review manufacturer instructions before beginning your installation, and consult an expert whenever in doubt.
You'll need…
Bucket
Utility Knife
Plumber's Putty or Silicone
Adjustable Wrench
Basin Wrench
Cable Cutters (if required)
Appropriate Safety Equipment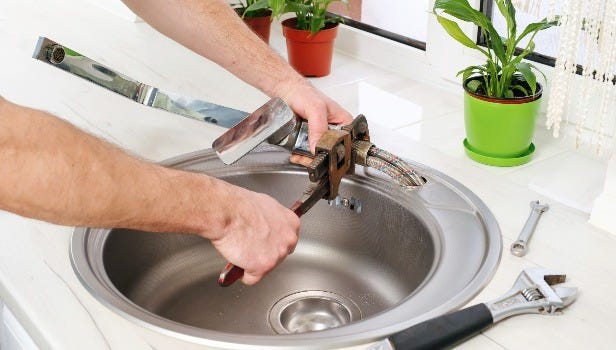 Making the Switch
Shut off any water supply or power supply to your sink. This can be done underneath your sink with stop valves or by shutting off water to the house. Take pictures of the configuration of your plumbing to help correctly reconnect it later on.
Carefully disconnect your water supply lines with a small bowl or bucket handy to catch any water. Various wrenches and loosening oil may be necessary to detach any nuts in awkward spaces. Ensure any pieces running through cabinetry are supported to avoid damage to the cabinet.
Next, you can begin removing any mounting hardware or caulking on top and underneath your sink. Give the area a good scrub to remove any grime and allow it to dry completely.
Now work backwards to install your new faucet.
Next Steps
Start by placing your sink's deck or base plate and secure it following manufacturer instructions.
Align hot and cold lines as necessary for single or double handle faucets and secure mounting gear on the underside of your faucet. This will include gaskets, nuts and bolts to secure the frame of your faucet and supply line ports.
Connect correlating supply lines (consult your old set up you recorded at the beginning) and water supply valves.
Turn your water supply back on and give your faucet and supply lines a good flush to clean out any debris.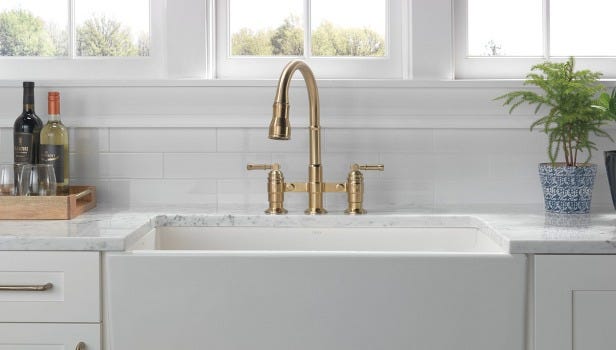 Enjoy!
Enjoy your shiny new faucet everyday. Fully functional parts and new attachments will save frustration and increase style. Browse dozens of faucet options online and in-store at KENT, and DIY your faucet install for a sink you love to use.