Walls & Islands
Your wall measurements will help inform cabinet and countertop placement, but don't rely on your current layout! The most important measurement is your wall length and height as opposed to measuring your current countertops or cupboards. Keep your measuring tape as close to your walls as possible for accuracy. The size of your space will inform the best layout and the size of any kitchen island, but existing islands' width, length, and height will also be required.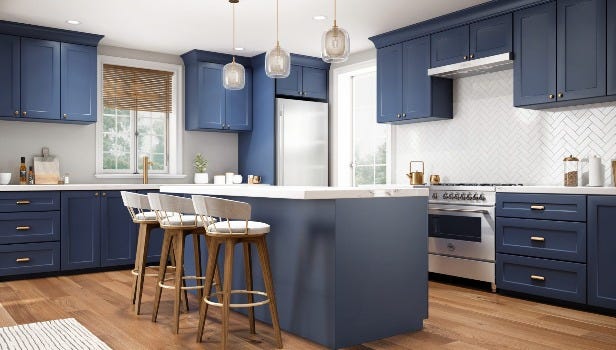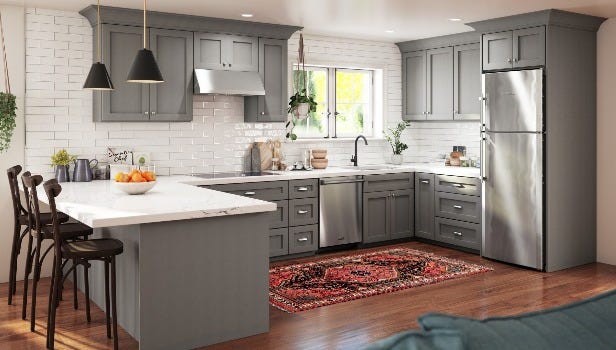 Windows, Doors, and Ceilings
The final layout of your cabinets and appliances will depend on window placement and ceiling measurements. Lighting and height clearance are key factors in determining where cabinets may be hung. Windows often serve as focal points and light sources in your space, and are often paired with your sink placement.
Measure around your window from the edge of your wall to your window trim, including the top, bottom, and sides. To measure the window itself, measure width and height including the window trim. Your KENT kitchen specialist will use the window placement details to ensure any appliances or focal points are aligned properly with your windows.
Doors will be recorded similarly: measure from corner to trim on each wall, trim to trim for the height and width, as well as the opening direction.
Ceiling measurements will include floor-to-ceiling height from multiple points in your space. If your floor or ceiling is uneven, this will be accounted for during any cabinet installation.
Appliances & More
Appliances should fit snugly into their position in your kitchen. No one wants to attempt installing appliances only to discover the designated space is too small, or too large!
For stove placement, measure from walls on either side to roughly the center of your stove. This allows KENT kitchen specialists to maintain the alignment of any existing range hood ductwork. You will need the width measurements of your stove, range hood, dishwasher, and fridge. Your fridge's width and height are essential to ensure any surrounding cabinetry provides enough clearance for door hinges. Appliances like microwaves or wall ovens will need special consideration for your designer to place in the optimal location, but having a sense of your desired model's length, width, and height is beneficial.
Another measurement to account for is the location of your sink drain: measure from the nearest wall to the center of your drain so that it can be oriented with your countertops and cabinetry. If your sink is on an island, measure from the edge of your island to the center of your drain.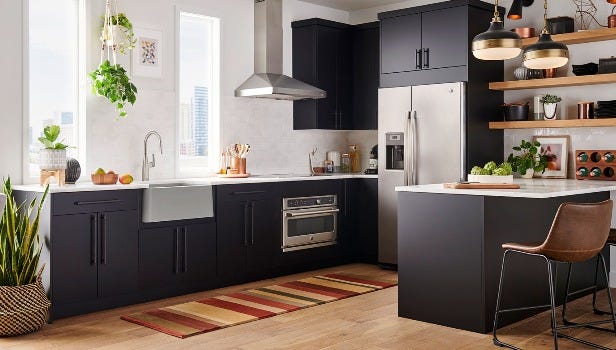 Your KENT kitchen specialist can help you plan your kitchen design at each step of the way and provide guidance on any more specific measurements that may be required. Measure twice, and let KENT handle the rest!