How to Build a Deck
Make the most of your backyard this summer on your brand new deck! Creating a comfortable, safe space to use outdoors is essential for lounging, eating, and playing. Building your own deck is the best way to achieve the perfect outdoor space for your needs and improve your DIY skills while you're at it. Our experts can help with every step from beginning to end, just start with a stop at the KENT Project Centre!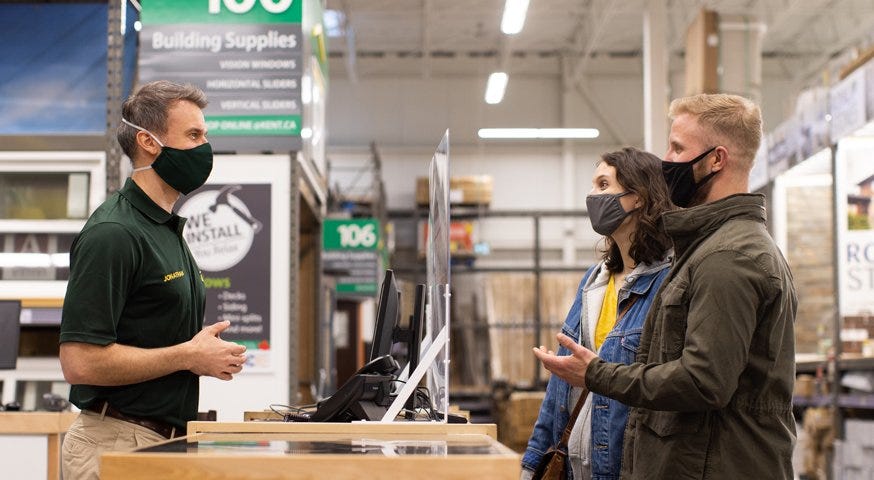 Start with a thorough set of plans. Here's where to begin when you're ready to build your dream deck:
● Style: which type of deck best suits your home and yard? Wraparounds are great for front porches or wide homes, multi level decks are perfect for split level homes or multiple outdoor features like pools or hot tubs, and small platform decks suit small or unlandscaped areas that need a clean slate for your favourite deck chairs.
● Function: Include your top use goals into your design for things like above ground pools, stairs, outdoor cooking, or kids' play space.
● Materials: Some popular deck board materials are pressure treated lumber or composite decking. Both are durable and resist the elements, but have slightly different maintenance levels. Ask your KENT expert about eco-friendly and durable options to suit your needs!
● Extras: Factor in a little extra shade with features like gazebos, pergolas, or awnings. You can even include sunken fire pits, safety gates for pets or kids, and storage benches for cushions and yard gear. Most decks are usually placed off of the kitchen or main living area, which may be coupled with the installation of sliding doors or a pass through window.
● Attached or floating: There are two ways to build a deck, attached to your home and floating, or unattached.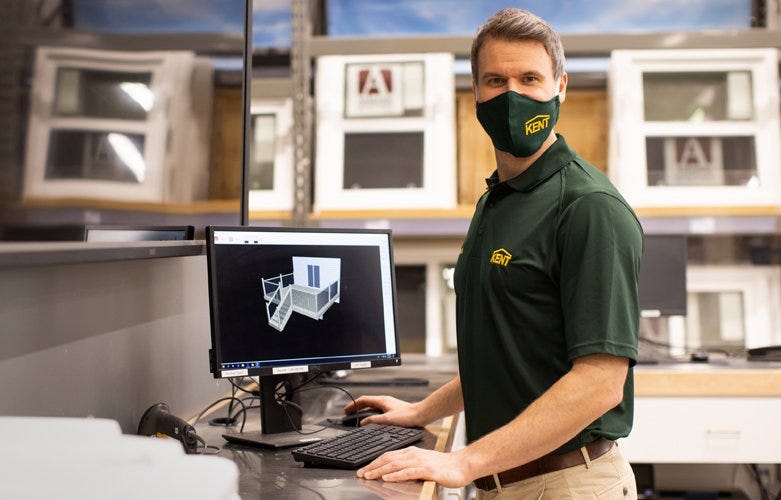 Visit our Project Centre to review all of these options and more, and try our free 3D design software. Your 3D rendering is included with any deck installation quote if you're opting to have KENT complete your build. This tool allows you to perfectly plan and measure your custom deck, and ensure you have all the right materials to get the job done. Once you have your supplies, it's time to deck-it-yourself!

Before You Build a Deck
● Before you bring home any materials, check with your municipality to find any and all permits you'll need for your construction. These will likely vary based on location and project details. Key permit considerations are deck height, and proximity to neighbours.
● When choosing your deck size, verify that your materials are available in proper sizes and amounts for items like posts, decking, joists, and hardware.
● Pick your deck material with maintenance in mind: most options are made to be weather resistant and durable, but some types of wood might require restaining or painting if you're set on a certain type of wood.

Foundation First
Check this how-to video we partnered with Denika Coakley for more details.
Ready to Ship
11 Available for pick up at

Ready to Ship
6 Available for pick up at

Ready to Ship
36 Available for pick up at

Ready to Ship
10 Available for pick up at

Ready to Ship
3 Available for pick up at

Ready to Ship
4 Available for pick up at

Ready to Ship
8 Available for pick up at

Ready to Ship
1 Available for pick up at

Ready to Ship
19 Available for pick up at

Ready to Ship
19 Available for pick up at