Online orders through KENT.ca can be delivered to our customers in a variety of ways. These options will be made available during the checkout process.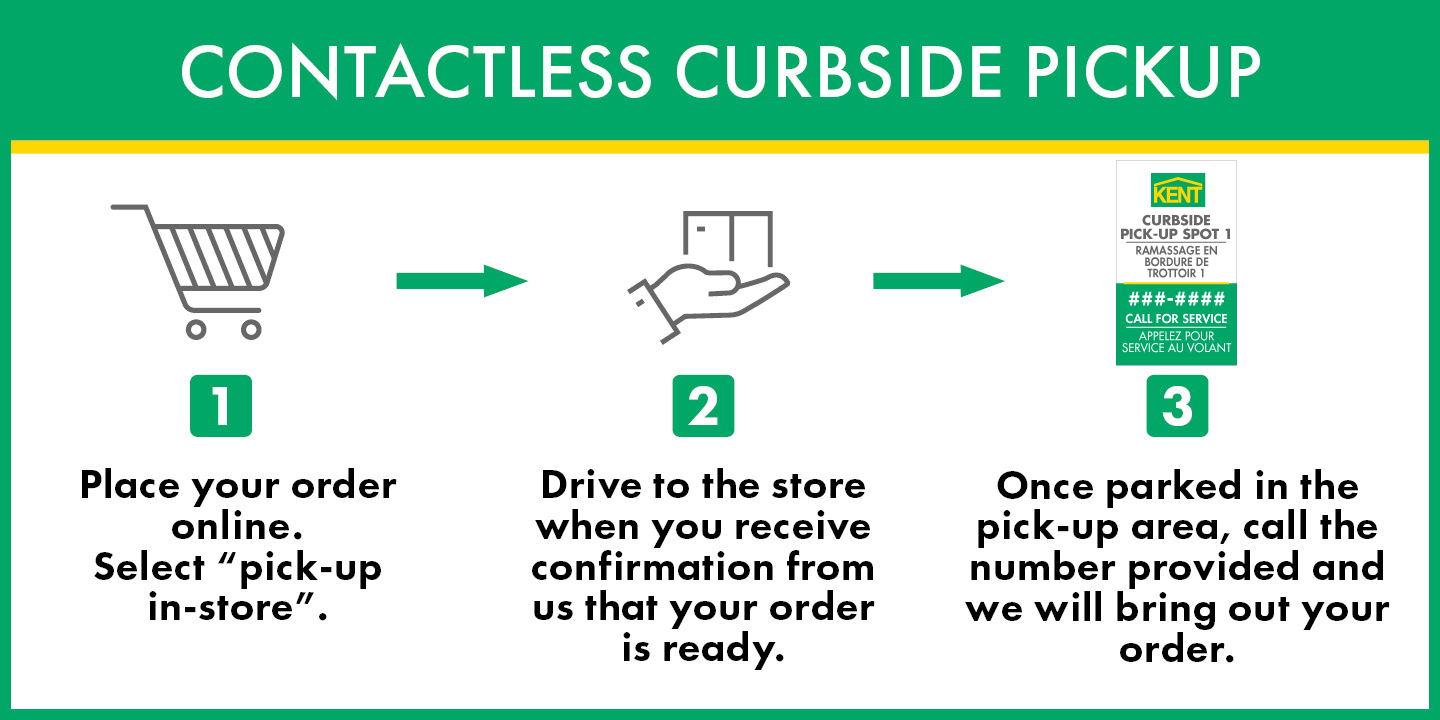 1. Pickup Orders
Customers are asked to wait for an email stating "Your order is ready for pickup." before proceeding to the store.
Please proceed to selected store's pickup area and call the number provided or visit the customer service desk and present an email stating "Your order is ready for pickup" with a piece of ID to pick up your order.

BUY ONLINE PICK UP IN STORE DISCLAIMER: Pick up orders containing trees and shrubs must be picked up from the store the same day, or the day after the order was placed. If the order is not picked up within 24 hours, your order will be cancelled, and no rain checks will be provided." 
2. Kent Delivery
Kent Delivery operates 8:00AM to 5:00PM Monday to Friday and will be available for most items, with a flat rate fee of $50 for up to 50km from the selected store.
Customers will be contacted by Next Business Day for their Kent Delivery Orders.

Items such as Hot Tub, Baby Barn are excluded from Kent Delivery.

Exclusions

can be

vary depending on the item and resources available

to fulfill the delivery.

Proper

reason will be given in any case of delivery cancellations.

Additional

fees may apply if special equipment, road tolls, ferry tolls, or other fees are incurred.

 

 

 
3. Ship to Home
Orders will be dispatched by Next Business Day to customer's house with the help of our shipping partners; pricing are displayed once the customer enters an address during the checkout process.
These are simply estimates for delivery timeframes. Delivery times could differ. Holidays are excluded from shipping.
Depending on the size, weight, and location of the shipment, rates will be changed appropriately. Certain delivery alternatives might not be available, depending on the item and the shipment location.
Kent reserves the right to cancel shipping orders based on costs, logistics and fragility of items. If Kent exercises the right to cancel, the customer will be contacted and every reasonable effort to satisfy the customer will be made.
---
Same Day Delivery (DoorDash)
We are happy to offer same day delivery through DoorDash. In order to qualify, eligible orders must:
Be within a 15km radius of the following stores:

Saint John Kent store
Dartmouth Crossing Kent store

Have a total weight under 50lbs and under 5 feet.
Same Day Delivery will not occur on holidays
Orders must be placed before 4pm to receive your order the same day.
In order to qualify for same day delivery, eligible orders must:
---
Delivery Process
Kent Delivery is pleased to use our fleet of trucks and delivery vehicles to bring our products right to your home. Our drivers will do their best to deliver your material where it is most convenient. However, at all times our drivers are conscious of their safety and it's up to them to determine what is safe and what is not. This typically prohibits heavy deliveries from being delivered up and down stairs. We appreciate your consideration of our driver's safety.
Where stock is available, orders will be shipped within 3 business days. When stock is not immediately available, attempts will be made to acquire the stock from other nearby stores. This may take up to 3 weeks, depending on the type of transfer. If a courier is selected, products that are fragile, too large, too heavy, or contain hazardous materials may be unshippable, and the order may need to be cancelled.
The carriers we use are BNI, Midland, Canada Post Expedited Parcel, Canada Post Xpresspost, and Fedex Ground. Once your order has been shipped, we will send you an email with a tracking number. You will be able to use this number to check the progress of your order at canadapost.ca, fedex.ca, midlandcourier.com, or bnitracking.com.
CONTACT US
If your order arrives damaged, incomplete, or incorrectly, please contact us within 2 business days at:
Phone: 1-877-445-3527
Mail: orders@kent.ca
Hours: Monday-Saturday: 8AM - 9PM AST Sunday: 8AM - 5PM AST
*Closed on Holidays*