Clear & Clean
Begin by removing any furniture or debris with a good sweep. Existing wood will benefit from a good wash with the appropriate deck detergent for your material, just make sure surrounding plants are protected first. Clearing away mold and mildew is essential to create a clean slate for fresh stain.
If your deck has old stain or paint on it, you'll need to sand it away using 60-80 grit paper and medium pressure. The purpose of sanding is to remove any existing colour and create a porous surface to properly absorb fresh stain as opposed to smoothing the surface. If there are only small patches of wear, you may be able to touch up sections of your deck as needed. Thoroughly sweep or vacuum away any dust.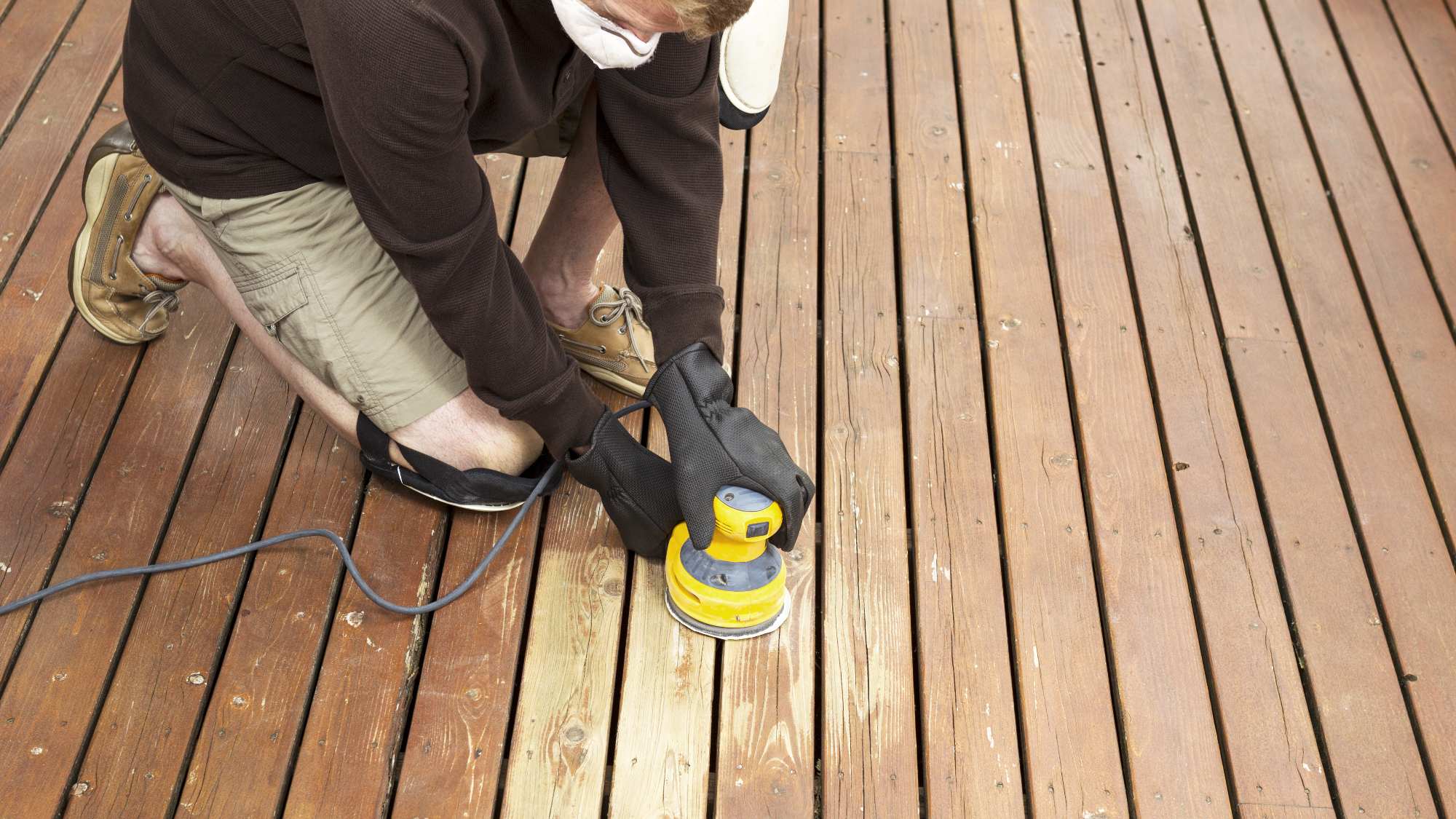 Water Test
For optimal colour results, wood must be porous enough to hold onto your new stain. Even new wood may need sanding down if water sits on top of the surface instead of absorbing in. After testing water absorption, allow your wood to dry completely before any staining.
New pressure treated lumber will need ~4-6 weeks of summer weather to release moisture. Allowing your new wood to properly dry out will prevent cracking and warping after applying stain. Try taping a plastic bag around a section of wood and checking for any moisture inside after a few days. If there are any droplets, it will need to dry out more before any staining!
Best Application
The most important part of stain application is dry weather! You will need to plan for 2-3 days of clear, dry weather. Avoid applying stain in high heat or strong sun to prevent stain from absorbing unevenly, apply in some shade when possible is best. That being said, some new formulas allow for more weather-flexibility: Olympic Maximum and its Weather-Ready Application allows you to clean and stain on the same day, even after rain! Olympic stains are intended to be applied in single coats, multiple coats will have the stain attempting to bond to the prior coat instead of your deck wood, reducing the durability of your stain. If you are using multiple containers of stain, mix them all in one large container to keep it uniform.
Enjoy long lasting colour and protection with the proper stain application! Start your deck prep at the KENT Paint Department and soak up the summer in your beautiful backyard.
Ready to Ship
7 Available for pick up at

Ready to Ship
1 Available for pick up at

Ready to Ship
12 Available for pick up at

Ready to Ship
147 Available for pick up at

Ready to Ship
10 Available for pick up at

Ready to Ship
3 Available for pick up at

Ready to Ship
4 Available for pick up at

Ready to Ship
1 Available for pick up at