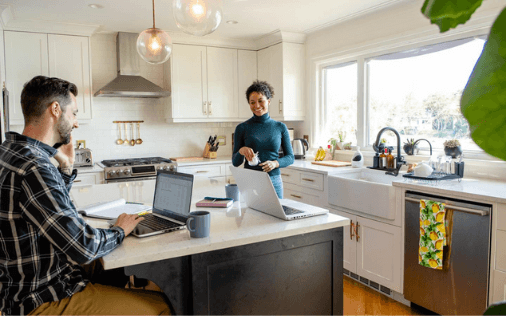 Budget
Cabinets typically account for almost a third of all kitchen renovation costs. Get an accurate gauge on your budget by measuring the amount of cabinetry needed and materials that will suit these considerations. Our 3D planning software can help narrow down the perfect pre-made or custom cabinets for your space.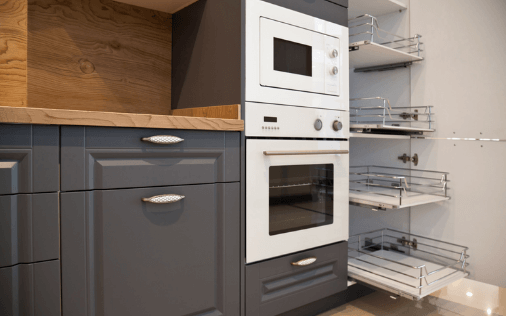 Customization
There are a wide range of cabinet designs readily available that include Lazy Susans, pantries, and utensil storage, but if you're looking for a special drawer made just for your beloved hand mixer, custom or semi-custom cabinets will make your storage dreams come true. In-stock cabinets are made to fit most basic kitchen designs, so if your space is more unique some customization may be essential. After installation, almost any type of hardware can be added to any cabinet. Consult your Project Centre pro on which hardware usually functions best with your cabinet style!
Materials
Finally, onto the fun part! There is an entire rainbow of design options for cabinetry that narrows down by the type of material you choose: PVC, veneer, or solid wood.
PVC
PVC resembles a painted finish that is more low maintenance than wood options. Most PVC doors aren't painted, but rather the door is MDF (medium density fibreboard) covered in PVC plastic. PVC doesn't yellow, scratch easily, or warp; however, the colour will change if exposed to excessive heat or certain environmental conditions such as tobacco smoke.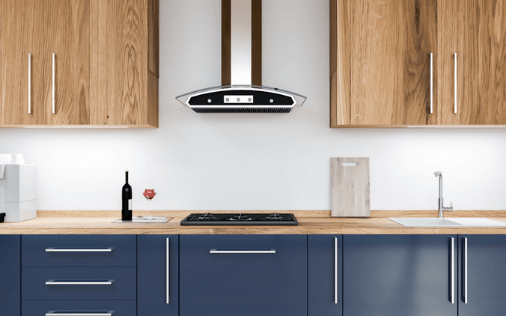 Veneer Panels
Veneer panels are another option that will give the appearance of wood at a more affordable price. There are fewer stain options available than in solid wood, but veneer is also less likely to warp than solid wood doors. Veneer wood will absorb more stain than solid wood and will show more colour variation. Ask for samples to compare stain options!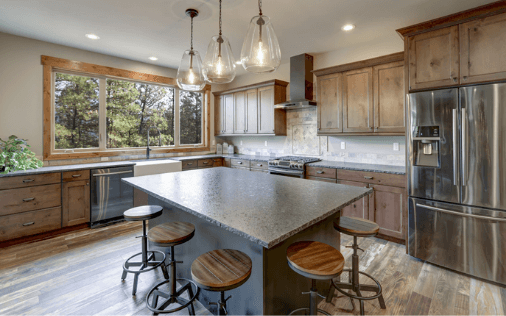 Solid Wood
Solid wood cabinets provide many style and stain choices, and options to refinish down the road. Wood choices include Maple, Oak, Hickory, Cherry, and Birch. Be sure to inquire how each type of wood will adjust to temperature changes and sunlight. If exposed to temperature changes, the wood can warp as it expands and contracts that may give painted doors a "cracked" appearance. Exposure to UV rays and light, as well as aging, may alter your cabinet's colour. Even considering the maintenance of solid wood, it's a popular choice for classic designs.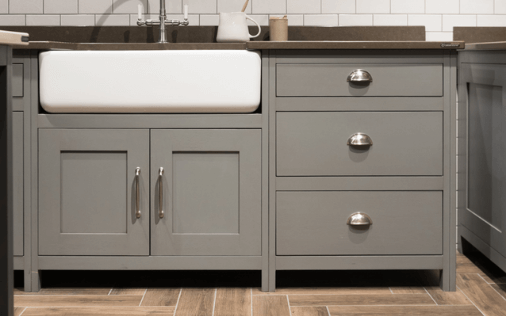 Framed
For a more traditional look, choose framed cabinetry. It is designed with 1/2" of door overlay in mind, and leaves 2" of the cabinet frame visible. This frame is masked with 1" x 2" hardwood to add extra strength. This will ensure the attached hinges stay firmly in place.
Since the hardwood makes the face frame sturdier, these cabinets don't always include a top panel or a full back. They will always include the essential base though. One of the drawbacks to choosing framed cabinetry is that the frame can narrow the opening size for drawers and doors.
Frameless
Also known as European style, frameless cabinets offer a more contemporary feeling. They have a full overlay to conceal the cabinet frame around each door to create a seamless appearance. With frameless, there are finished panels on each side that are edged with a narrow laminate strip.
This strip includes approximately 32 predrilled holes to allow for simple fastening of hinges, shelf pins, slides, and additional hardware. One of the best features of frameless is that there is no frame obstructing your storage space, so you can access your drawers and doors easily.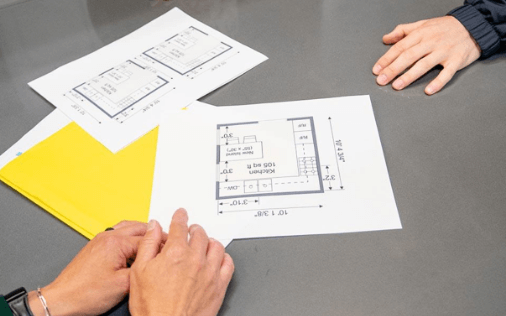 Installation
Did you know we offer free in-home (or virtual!) kitchen consultations? If you're feeling unsure about the best options for your kitchen, simply give your local KENT Installation Services a call to set up your consultation! Our 3D rendering of your future kitchen can help guarantee you love your cabinets by easily testing combinations of materials and colours. Explore different configurations and better prepare for a perfect installation!
---
Finding your dream cabinets can be easy and affordable with help from the KENT Project Centre! Our 3D planning tools, in-store and custom options, and material samples will start your kitchen renos off on the right foot. Stop excusing your nonfunctional, dingy cabinets and create a kitchen you'll love to use!
---