Sink & Faucet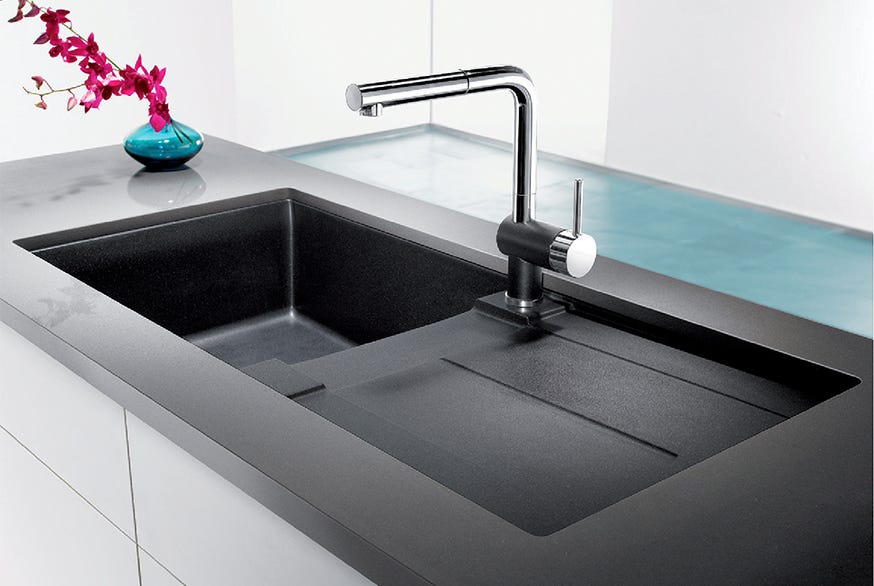 First things first: sinks! The feature you use everyday needs to be functional, easy to clean, and beautiful. The size of your counters will determine the allowance for a single or double sink, which can then be installed underneath your counter or set in on top. Your sink material will largely depend on your personal taste, all types of materials like ceramic, stainless steel, or granite are made to be hygienic and durable.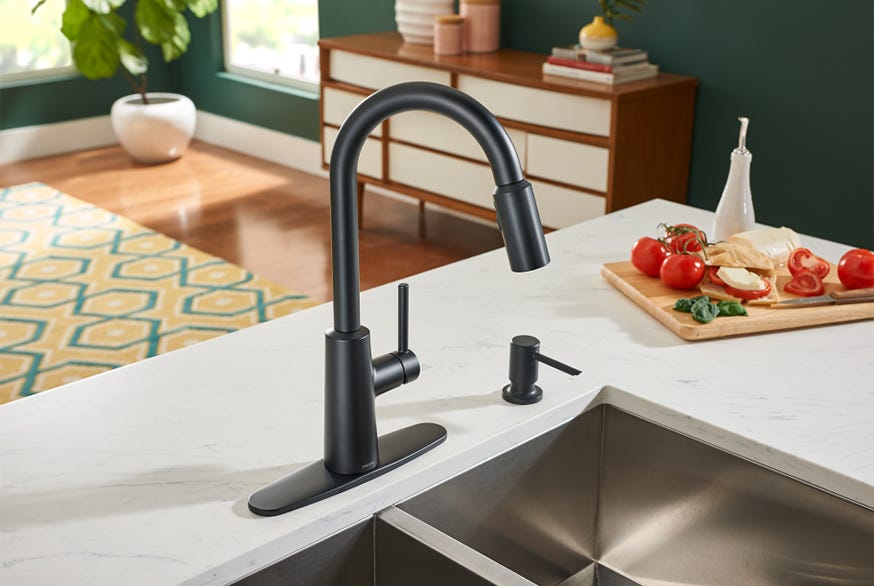 Faucets are available in a wide range of colours, finishes, and designs. Determine your plumbing and structure needs before browsing to ensure your faucet functions with any preexisting formats. Single handle faucets are the most common for kitchens for easy use, some made even more utilitarian with touch technology and pull down sprayers for extra busy hands! Matte finishes are increasingly popular and will show less smudges than a polished chrome finish.
Backsplash
Smaller areas like backsplashes are the perfect low risk opportunity to try bold colours and patterns. Whether you go classic or trendy, you can easily DIY your backsplash! Try tiling, stick-on strips, or concrete to get creative. It is a good idea to purchase extra material for cutting, waste, and future repairs. Ask our Project Centre for an exact list of all the supplies you'll need no matter what your design dreams may be!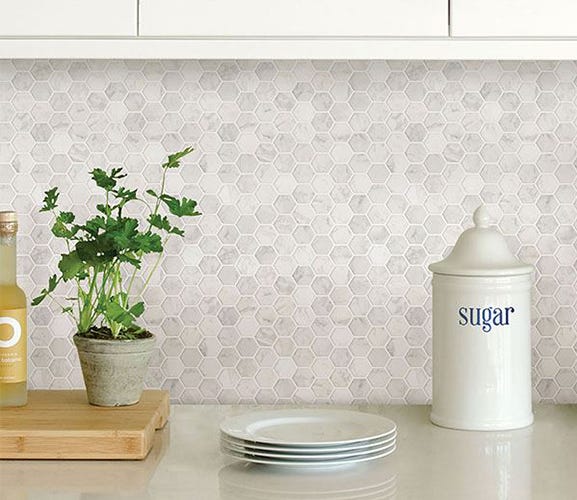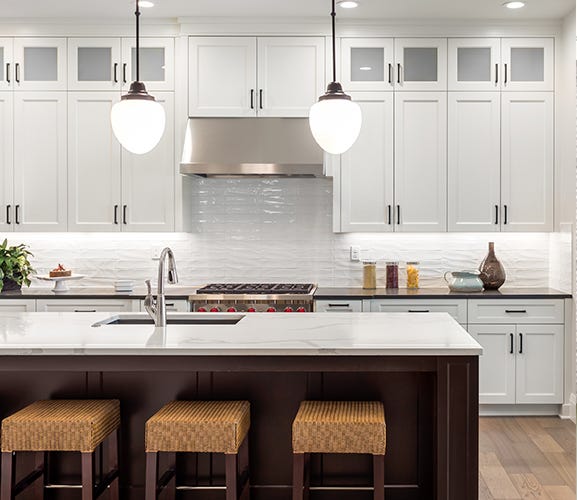 Lighting
Did someone say pot lights? Brighten up your space with unobtrusive ceiling or under-cabinet lighting, or go for a bold pendant to polish off your design. Building new or upgrading is the perfect opportunity to get techy with smart home options that include timers, dimmers, and switches right from your smartphone!
Storage & Organization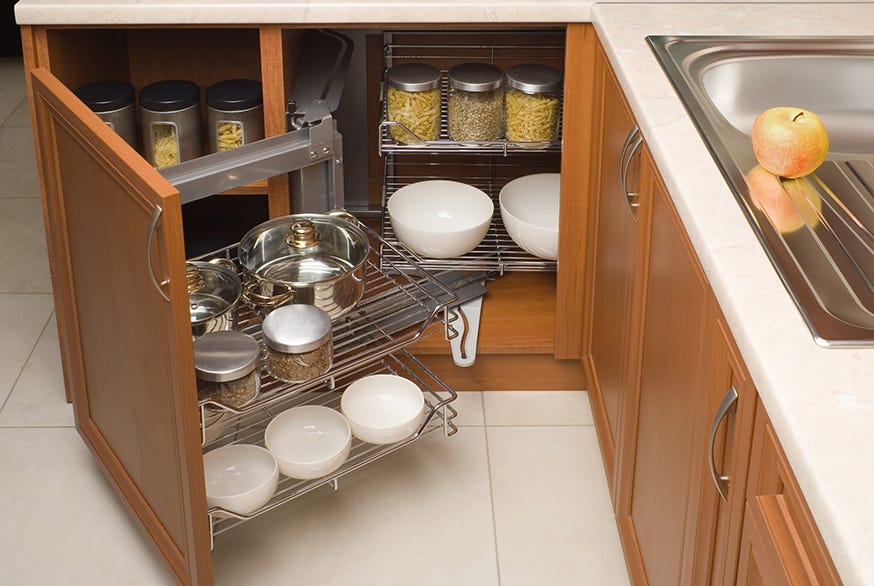 From spice racks to pantry bins, your ingredients need to be organized and accessible. Accessories like drawer dividers, tiered cabinet storage, and even garbage cans can make or break your kitchen function. Bust the clutter and boost organization in every corner of your kitchen with the right storage solutions!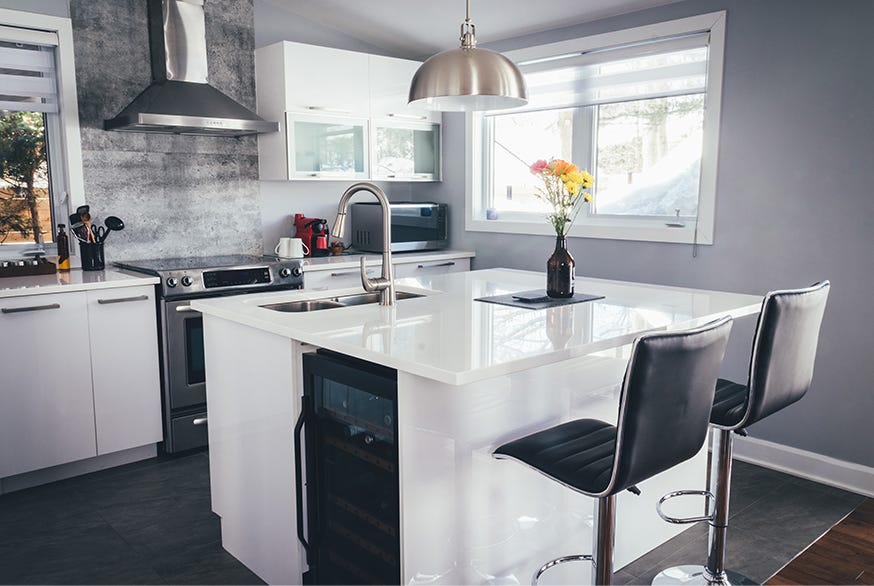 If your coffeemaker is practically part of the family, give it a proper home in your kitchen! The placement of small appliances like your microwave, beloved coffeemaker, or stand mixer is a key usage consideration. Build lift-up storage into cabinets, garage style cupboards for your toaster oven, or under-counter beverage fridges. Necessary tools can be seamlessly incorporated into your kitchen with the proper cabinet accessories and layout.
Put the finishing touches on your kitchen with help from KENT! Find the functional, useful additions that will make cooking and entertaining easier than ever. Gorgeous accessories will polish off your design and make your kitchen a space you truly love to live in. Contact our Project Centre today to check off your kitchen wish list!