Fuel: Propane, Charcoal, Pellet & Electric BBQs
There are a few different methods of powering your BBQ that will largely depend on your personal preference as well as the space available for your BBQ. All barbecues will need a wide open area with good airflow to ensure dissipation of heat, whether it be a charcoal, pellet, propane or electric grill.
Size
When you begin barbecue shopping, consider the space for your BBQ to occupy and how it will complement your lifestyle and entertainment options, or just how small it needs to be to haul camping!
Most barbecues are sorted into portable, gas cart and or specialty, each with varying grilling capacities. If you're a regular BBQ host, A 4-burner gas grill or equivalent can grill for up to 20 people very comfortably. Smokers and pellet grills fall victim to overestimation regularly: one pork shoulder can produce pulled pork sandwiches to feed up to 25 people, and the smallest pellet grills can smoke 2-4 pork shoulders at a time! Additionally, side burners allow you to boil water, sauté vegetables, or heat a sauce right at your grill instead of all the way in the kitchen or on the grill surface.
Individuals may opt for a portable grill that can be used on table tops or easily rolled in and out of storage. No matter where you place your barbecue, it must be on a secure, level surface away from trees or brush and in compliance with any regulations your home/apartment or municipality may require.
Materials
Most modern BBQs will be made of stainless steel, aluminum, or enameled steel that is sturdy, easy to clean, and weather-resistant.
Some backyard chefs may have a preference for the grill material: cast iron, stainless steel, or porcelain coated. Stainless steel is the most expensive option and requires the most care, but is the most durable. Porcelain enameled cast iron or coated grills are inexpensive but may chip or lose anti-stick properties over time.
Carefully review the manufacturer summaries of each model to find the material that will best suit your cooking needs.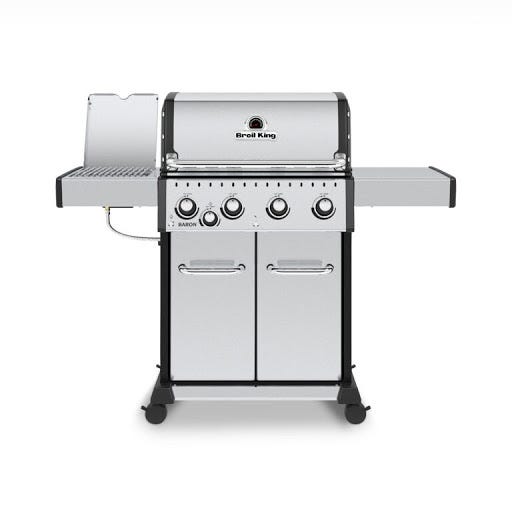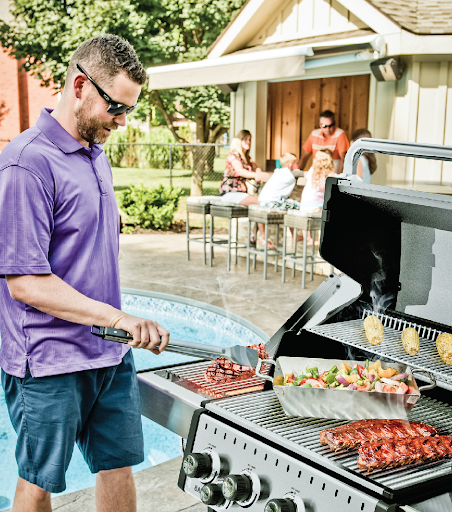 British Thermal Units
The heat output of gas barbecues is measured in British Thermal Units (BTUs), which measures the amount of fuel needed to heat 1 pound of water by 1℉. Some ratings are listed per square inch which can bias the BTU rating especially on larger grills. Equally important factors to consider for heating power are the actual construction of the barbecue: materials, insulation, and ventilation. Poorly made models may list a higher BTU but lose more heat during use due to poor design. A quality barbecue will heat up and retain heat well even if the BTU rating is lower in comparison.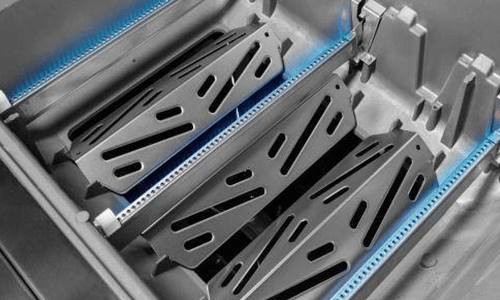 Design Features & BBQ Accessories
Now for the fun stuff! The features and design of your barbecue will be the biggest influence on choosing a model. From warming racks to side elements, tong hooks and drip trays, there are endless bells and whistles to choose from. Most grillers will benefit from a little storage, side tables, and easy-to-clean trays & racks. Seasoned chefs may want to spring for a side burner, smoking capability, or added vents for heat control.
Before firing up your new BBQ, accessorize your grill with some essential extras! All grills should be covered with the appropriate grill cover and any grease drip tray solutions. Other handy extras include grill brushes and cleaning solutions to keep the grill clean and ready for cooking. Electronic cooking aids such as iGrill and portable thermometers ensure food is delicious and cooked properly every time. KENT also carries a variety of cooking tools, racks, pizza stones, and other specialty grilling items to enhance your outdoor cooking experience.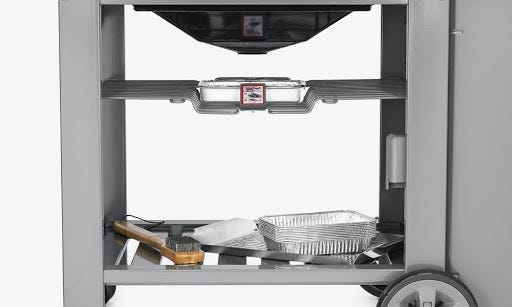 Our KENT experts can help you navigate all these features and more at your local KENT. Find your new favorite BBQ at KENT and rule the grill all summer long!