Budget
When determining your budget, allocate the most funds towards top priorities. Your renovations might focus on new cabinetry, appliances, or rely mainly on fresh paint. When budgeting certain categories, browse pricing online to ensure you choose items that fit your budget, and that your budget is sufficient for market costs.
Inspiration & Planning
Break down your style preferences into specific categories: dark or light tile floors, light upper cabinets with dark lower cabinets, countertop material, open shelving... translate your favourite looks from Pinterest into design specifications. Play with virtual reality tools to test out flooring and paint colours, or even try your hand at Photoshopping features on images of your existing kitchen.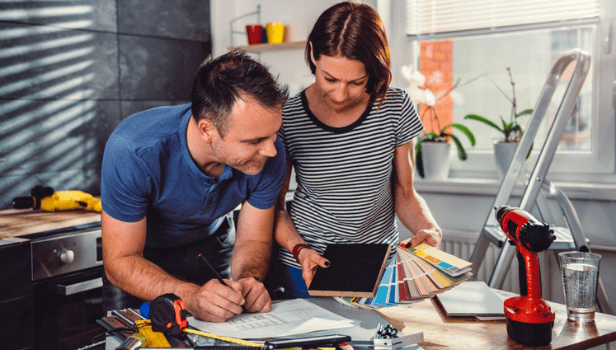 Layout
There are two factors to your kitchen layout: the overall shape and size of your room and the placement of appliances and islands with consideration for doorways and windows. Your layout may have some physical constraints like existing walls, supports, or doorways that may or may not be able to be moved. Always consult a contractor about any major structural changes. Work with the space you have to prioritize cooking function and storage when renovating an existing kitchen.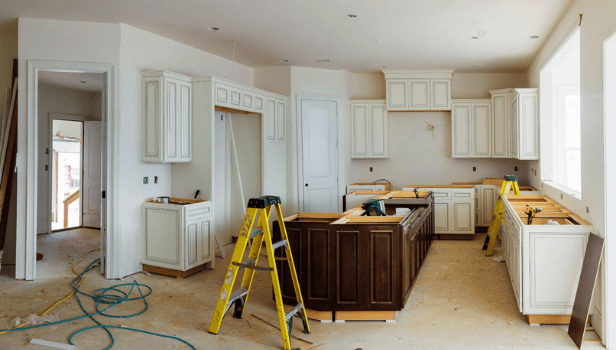 Once your structure is determined, your installation of cabinets and appliances is all about function. Incorporate your dream coffee station, create homes for everyday small appliances, and make the most of your island. Create a list of your most common kitchen uses to prioritize placements of utensil drawers, wine fridges, and child safe cupboards. Consult KENT Installation Services on these factors to create the proper flow of traffic and accessibility.
A good rule of thumb for appliance placement is a triangle shape between your fridge, oven, and sink to maintain adequate counter space around each appliance. Consider including a landing zone for mail, pot filler, crumb catchers, and fun focal design features. Your local KENT PRO can recommend tried and true layouts that accommodate most kitchen functions.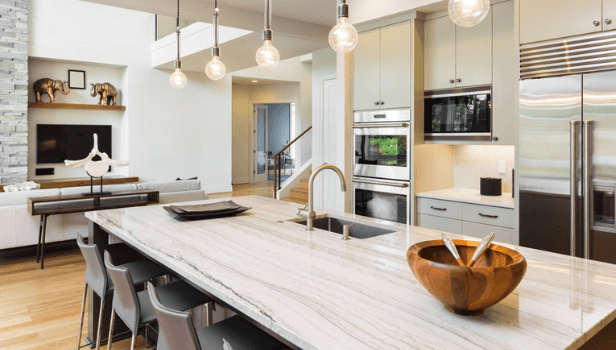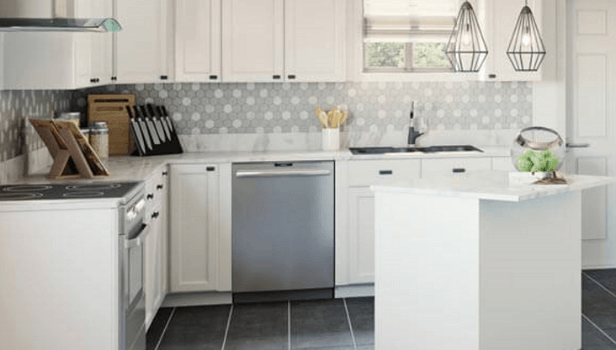 Storage
Your kitchen storage can include everything from utensil holders, Lazy Susans, drawer sorters, and pot hangers. Include pantry space for dry goods and less used items. A pantry is also a perfect spot for a recycling organizer. Modern cabinets often already include extra pull out drawers and dividers to fill your cupboards with bins and racks to easily access dishes, snacks, and dish towels.
Storage bins are perfect for separating cleaning supplies or any items that aren't kid safe. Browse some common sizes of snack containers or rotating shelves to ensure any new cupboards can easily accommodate extra storage. When it comes to kitchen storage, there are endless options to tidy up pots and pans, Tupperware, and small appliances.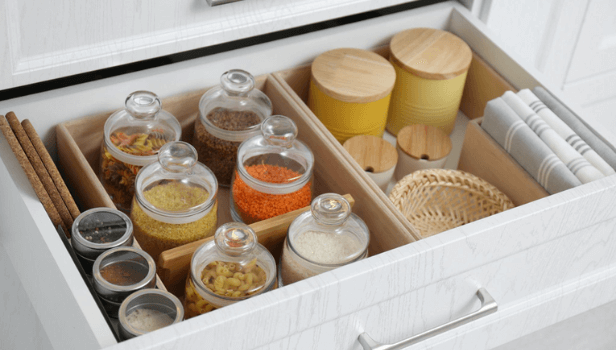 Lighting
There are 3 types of lighting you might like to include in your kitchen design: ambient, accent, and task lighting. Ambient light is your classic ceiling light that illuminates your space and simply helps you see. Some styles of ambient light include flush-mounted ceiling lights, sconces, or large floor lamps.
Task lighting might include any under-cabinet lighting or lights above your oven to keep cooking safe. Lamps or hanging pendants help accent islands or breakfast nooks and draw attention to artistic features. Accent lighting can also amplify open shelving and guide the eye to your favourite artwork.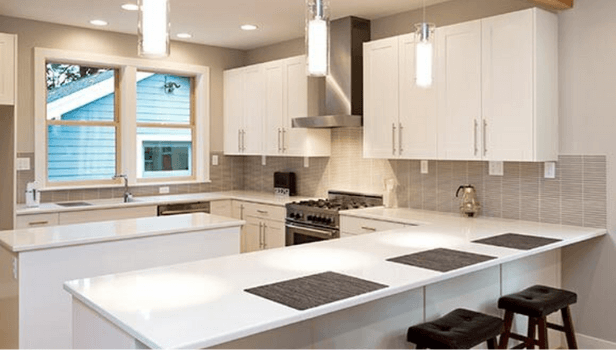 Finishes
Some of the toughest decisions to make after planning your layout, storage, and lighting will be cosmetic finishes. Bring home samples of tile, paint, and hardware to test combinations. The best way to bring your vision together is with a 3D rendering created by your local KENT PRO. Narrow down design combinations with specific options for light/dark cabinets, preferred flooring material, and the colour of your hardware.
Don't be shy to consult experts at any time in your kitchen design process, they can offer the best advice on aesthetics and performance of your design pieces based on experience.