KENT June 2021 Red Cross Campaign was a huge success. Stores raised $19,896.45 in support of the Canadian Red Cross!
The Canadian Red Cross helps those in need who are experiencing adversity. Be this through natural disasters such as flooding or refugees coming to Canada for a better life or those who receive constant bullying, the Canadian Red Cross helps those who cannot help themselves.
The Red Cross is the leading humanitarian organization through which people voluntarily demonstrate their caring for others in need. This is shown by its 20K+ volunteers from coast to coast, 300 branches and many fundraising events which aid in giving back directly to those in need. Over 2 Million people use the Canadian Red Cross Services each year in Canada*.
KENT stores raised $19,896.45 for the Canadian Red Cross charities in the month of June thanks to the support of our caring customers.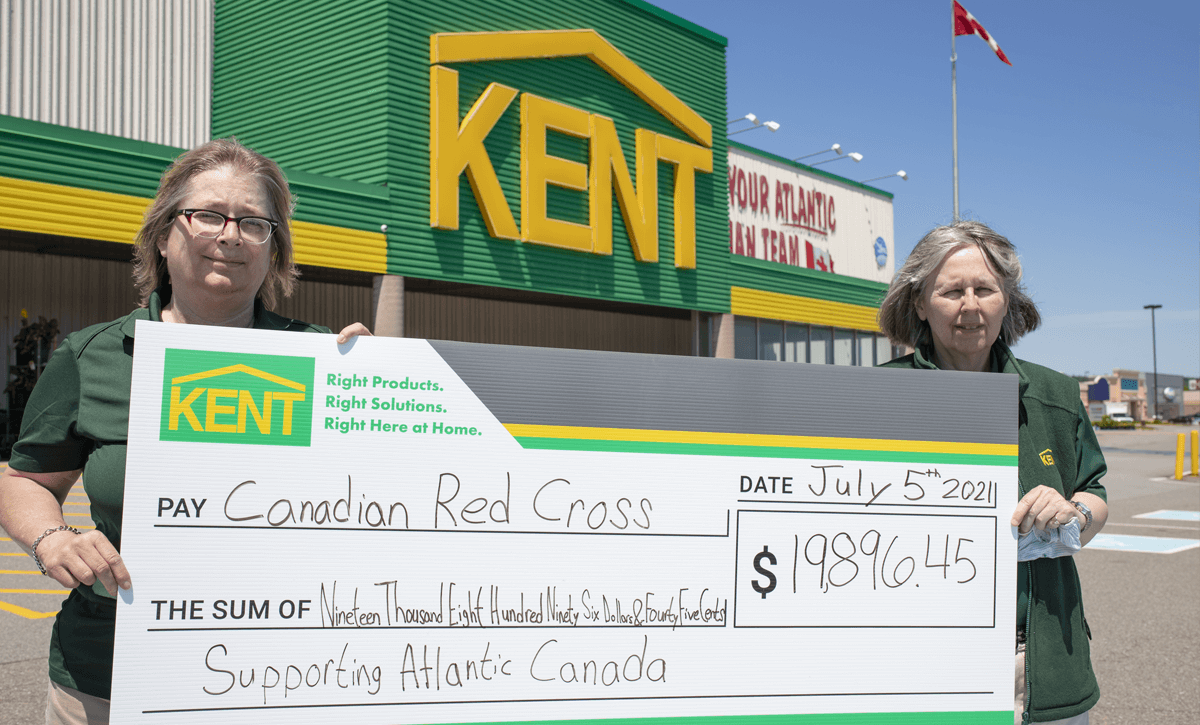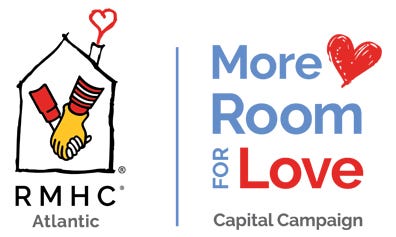 Ronald McDonald House Charities® helps families with sick children stay together and near the medical care they need.
Our programs include Ronald McDonald House, a "home-away-from-home" for out of town families with sick children, and Ronald McDonald Family Rooms, an oasis of calm and support inside the hospital.
Ronald McDonald House Charities Atlantic/Newfoundland is a non-profit organization. We depend upon charitable donations and volunteer support from many individuals, corporations and foundations to fulfill our mission. We receive no government funding.
KENT Stores raised $12,055 for the Ronald McDonald House Charities in the month of April from the support of our wonderful customers!
Seen below is Margaret Camus (left) and Sheila Payne (right) from our Inverness KENT store. Margaret was the top cashier collecting $1,107 in donations during the campaign for KENT. Way to go Margaret!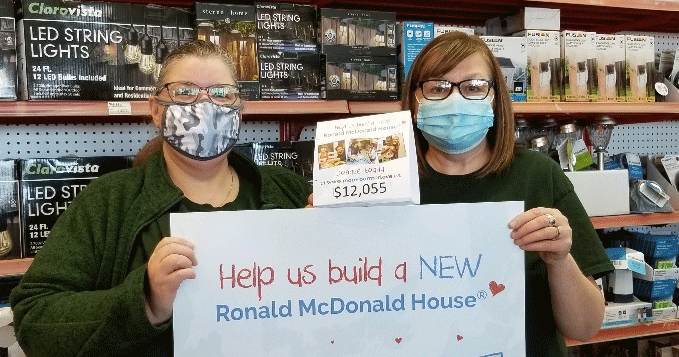 The 2020 FX101.9 Toy Drive in Halifax, NS was the largest to date. 16 pallets packed with toys were collected by our 4 Greater Halifax KENT stores.
Throughout the day when the FX101.9 Tent was on site at the Halifax KENT store, $1,906 in cash was collected. This money was used to go purchase more toys throughout the day! Social distancing was important to the toy drive this year. Because of this, we created a drive through drop off tent. We think this allowed for more drive-by visibility, and something we would like to continue in future toy drives! We had guests stop by throughout the day donating toys, and emphasizing the importance of supporting local organizations in the community.
When it comes to where the donations go, our focus is on helping those in the community who can be often overlooked. Adsum House has 190 clients (approx. 300 kids) that they will "shop" for using the donations from the toy drive. They also have an event (typically on December 23rd) for families who are not current clients of Adsum House. These people can come and get toys for their families. Adsum House is also in contact with local schools that identify families that need assistance before the holidays. They also work with Metro Turning Point (a men's shelter) to provide single dads with toys for their children. It is a similar set up with the Spryfield Boys and Girls club, they help approximately 20-25 local families each year with their holiday shopping. These organizations could not do the work they do without this event that is supported by KENT.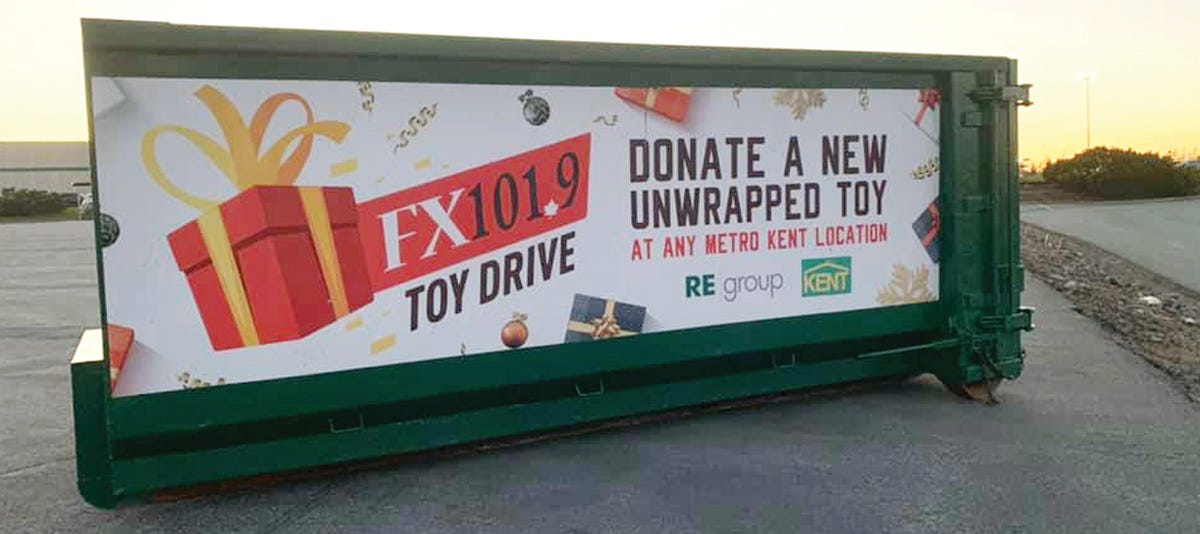 Year after year, the money raised is made possible by the kindness and generosity of the people of Saint John. Each and every dollar adds up to ensure that all children in the region have a joyous Christmas morning.
100% of the money raised goes to the children. Any expenses are covered in full by Brunswick News. The parent(s) or guardian receive a gift card from the institution where they registered. Typically, the Empty Stocking Fund helps about 2,300 - 2,500 children enjoy a joyful Christmas morning.
For the Empty Stocking Fund, KENT customer's raised $2,000 from our Saint John East, Saint John West, and Rothesay stores.
Want to learn more about the Empty Stocking Fund?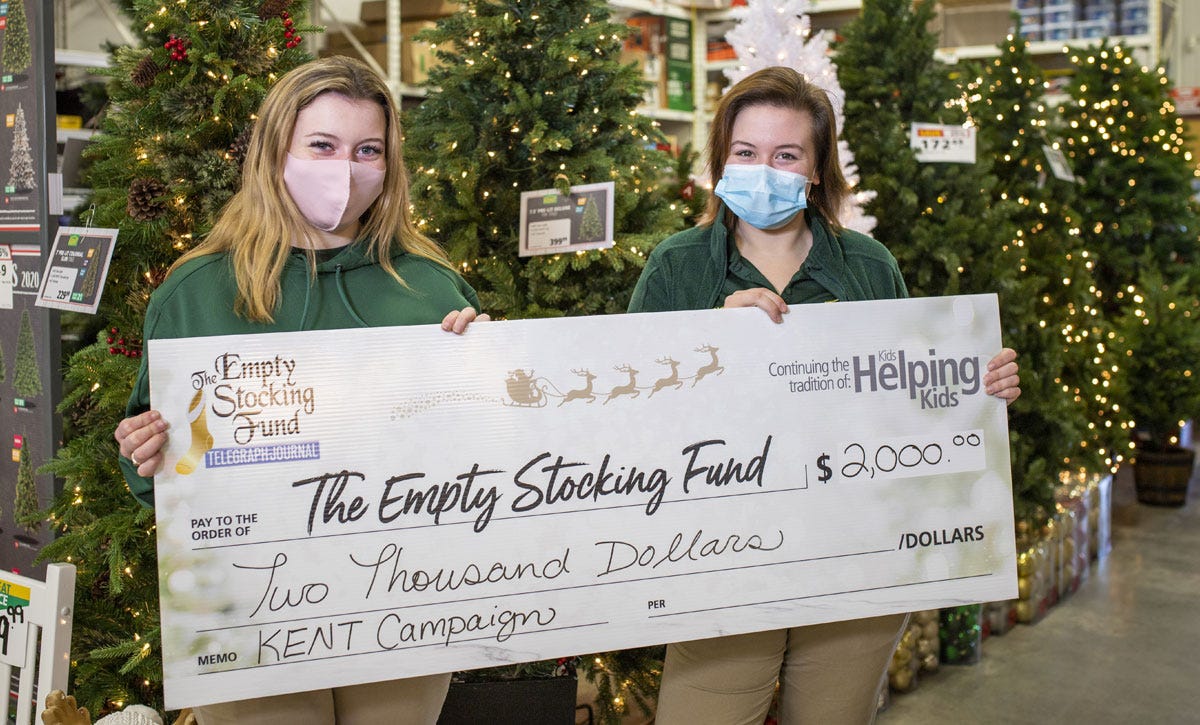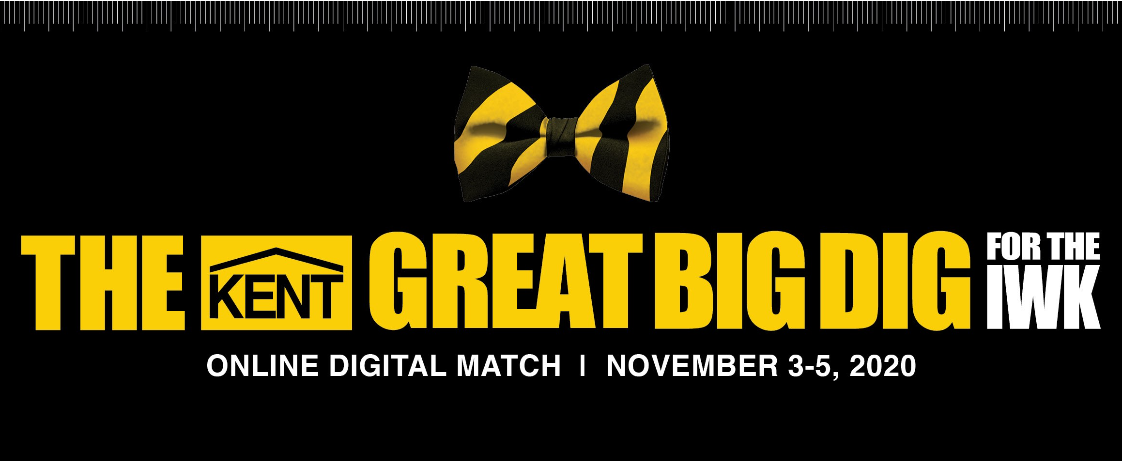 Over the last 18 years, the KENT Great Big Dig has been one of the region's most anticipated and exciting fundraising evenings, raising over $4 million for the IWK.
This year's event was executed as an online digital match! Together, our sponsors committed to matching donations made online from November 3rd through 5th, up to a total of $250,000.
The 2020 Great Big Dig Digital Match raised $392,574 this year! Thank you to all that donated in support of the IWK Children's Hospital.
Funds raised will go towards different types of equipment to help the IWK provide world class care in the Maritimes – a Servo-U Ventilator, two MX500 patient monitors, eight AIRVO 2 heated humidifiers, a Mini C-Arm x-ray machine, and a high-quality portable ultrasound machine.
1. The Servo-U Ventilator combines the latest advancements in patient ventilation while optimizing neonatal and pediatric patient safety and care.
2. The MX500 patient monitor combines monitoring and portability in one unit. It can be moved to Diagnostic Imaging or the Operating Room and allows staff to monitor more than one patient at a time.
3. The AIRVO 2 is a heated humidifier with an integrated flow generator that delivers warm and humidified respiratory gases to help decrease the number of patients requiring invasive therapies such as intubation and mechanical ventilation.
4. The Mini C-Arm is a state-of-the-art portable x-ray machine that allows surgeons to see and treat pediatric fractures and abnormalities of the small bones of the hands, feet and face faster, more accurately, and with less radiation to the patient and operating room team.
5. A portable ultrasound machine allows caregivers to provide an ultrasound at the bedside, which improves the accuracy and efficiency of decision making and diagnosis, increases the safety of difficult procedures, and decreases patient time in the ED.
The Red Cross is the leading humanitarian organization through which people voluntarily demonstrate their caring for others in need. This is shown by its 20K+ volunteers from coast to coast, 300 branches and many fundraising events which aid in giving back directly to those in need. Over 2 Million people use the Canadian Red Cross Services each year in Canada*.
We took part in 2 fundraising campaigns this year for the Red Cross and through the generosity of our KENT customers we raised $26,489.
*Learn more at: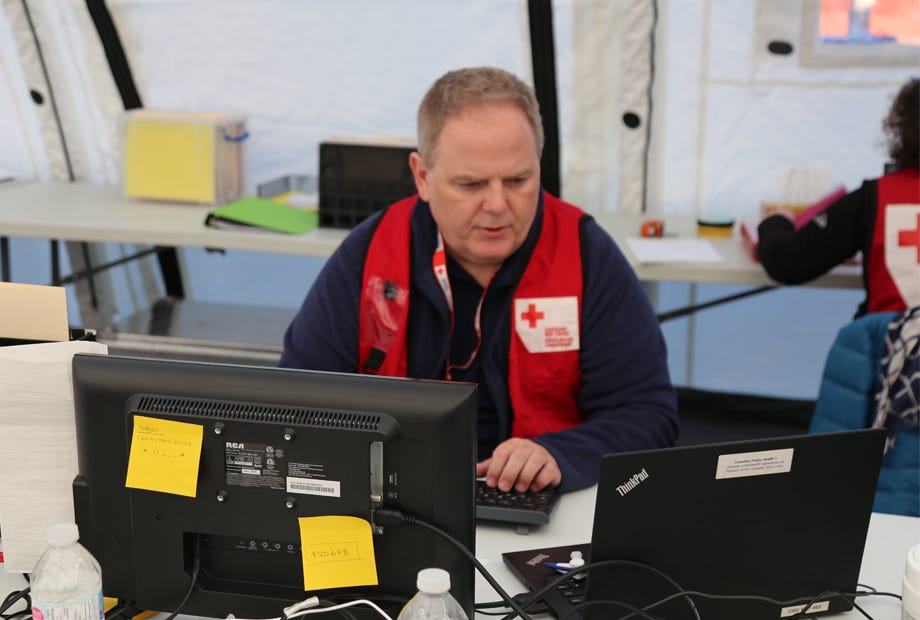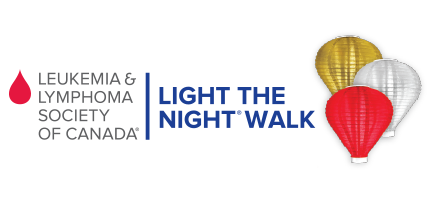 This year our customers helped to raise $20,530 for the Light The Night Campaign which supports the Leukemia & Lymphoma Society of Canada.
Every dollar raised goes towards new research into blood cancers, developing therapies, tests for immunotherapies, community services and much more!
Here are a few STRONG Atlantic Canadians who have been affected by blood cancer and are thankful for the LLSC...
Amanda Saunders

Grand Falls Windsor, NL
Diagnosed with Post- transplant Lymphoproliferative Disorder (PTLD), which resulted from the Epstein Barr virus.
" A chronic illness is not a gift, but it's certainly a lesson that I carry with me. At first I was angry, hurt, and bitter. I was not quite 23 years old and going through another major health crisis. Yet there is also much for which I am grateful. I would never have met former premier Paul Davis, which was a very exciting opportunity for me! He also connected me with LLSC which has been an amazing resource. PTLD is rare, only 1-2% of transplant patients get it, and I couldn't find any information. Once Paul connected me with LLSC they provided me a detailed fact sheet which broke down all the details I needed, as well as a blood cancer information package. I was so excited!" - Amanda Saunders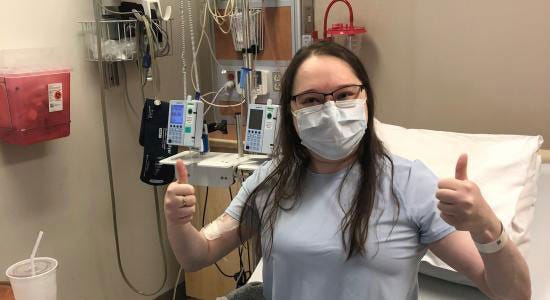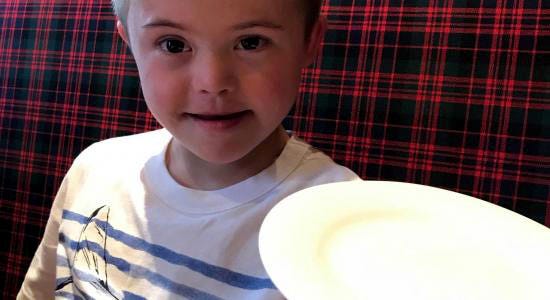 Gregor

Halifax, NS
Diagnosed with High Risk Acute Lymphoblastic Leukemia.
"Ten years ago, we participated in the very first Light the Night in Atlantic Canada. Gregor had just finished his first grueling year of treatment. It was such a novelty to be out of the hospital in the fresh air. Included along the Light the Night route is the local children's hospital and that night, as we walked by, I looked up to the oncology floor where I had just spent the last year with Gregor. I saw all the children lined up in the window, waving at us, cheering us on. That image has served as an ongoing reminder to me that even though Gregor survived, the fight is only beginning for other children. Light the Night is about raising awareness and morale, serving as a reminder to the children in the window that we are fighting alongside them." - Melanie Strömberg – Gregor's Mom
Allan Gaskin

Musquodoboit Harbour, NS
Diagnosed with Non-Hogkin's Diffuse large B-cell lymphoma.
"The first year, my wife Janet and I joined Light The Night as Individual Walkers. We just saw the information online and registered. We didn't raise a lot the first year, went the first night, and one of the volunteers mentioned that we should invite our friends and family next year and make a team. The following year, we had a small team and we've grown and grown since then. Light The Night helps me look forward and gives me hope. It is important to shed light on not only the blood cancer community, but the cancer community as a whole, and this event does that. It focuses the needs of the cancer community and brings a large amount of awareness to the research that must continue to happen. " - Allan Gaskin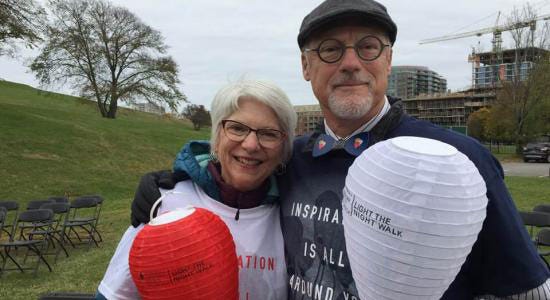 Donations
Requests must be made at least 90 days prior to event.
Events must benefit a charitable organization and not an individual.
Information required: organization/charity name, date and description of event, level of sponsorship available or in the case of donation, what specifically is requested.
Registered charities must provide tax receipts.
Event must take place within Atlantic Canada.
If you wish, you may also mail us a letter at the following address:
Kent Building Supplies
300 Union Street
Saint John, NB
E2L 4G7
Regrettably, due to the large volume of requests received at both a corporate and store level, we are unable to participate in every opportunity. Only those who are selected will be contacted.